11 February 2015
A Whirlwind Tour of the Ivy League
How to see all 8 schools in 5 days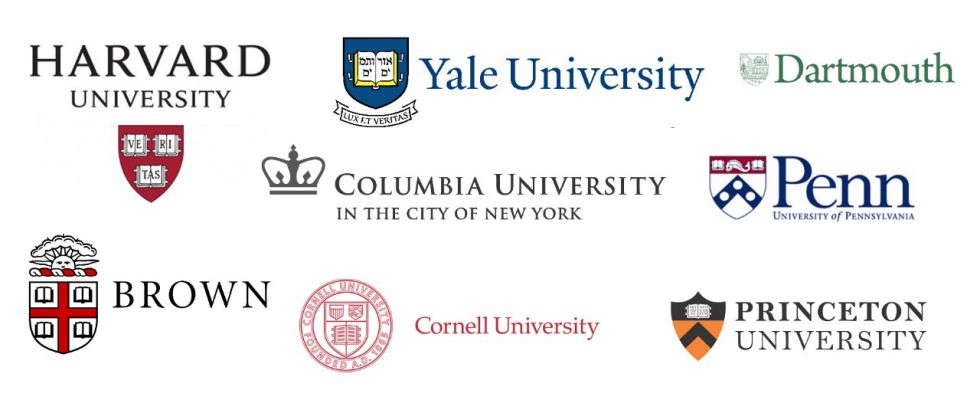 Spring break is around the corner and you're gunning for an Ivy League education. Which schools should you visit?
We say (wink-wink) why choose, when you can see them all?
We challenged ourselves to come up with an itinerary that would cover all eight schools in the span of a week, and we discovered it's possible to do in as little as five days. No helicopter required.
Read on for the itinerary, commentary and tour times. And feel free to slow down the pace and vary the schools while you're at it!
---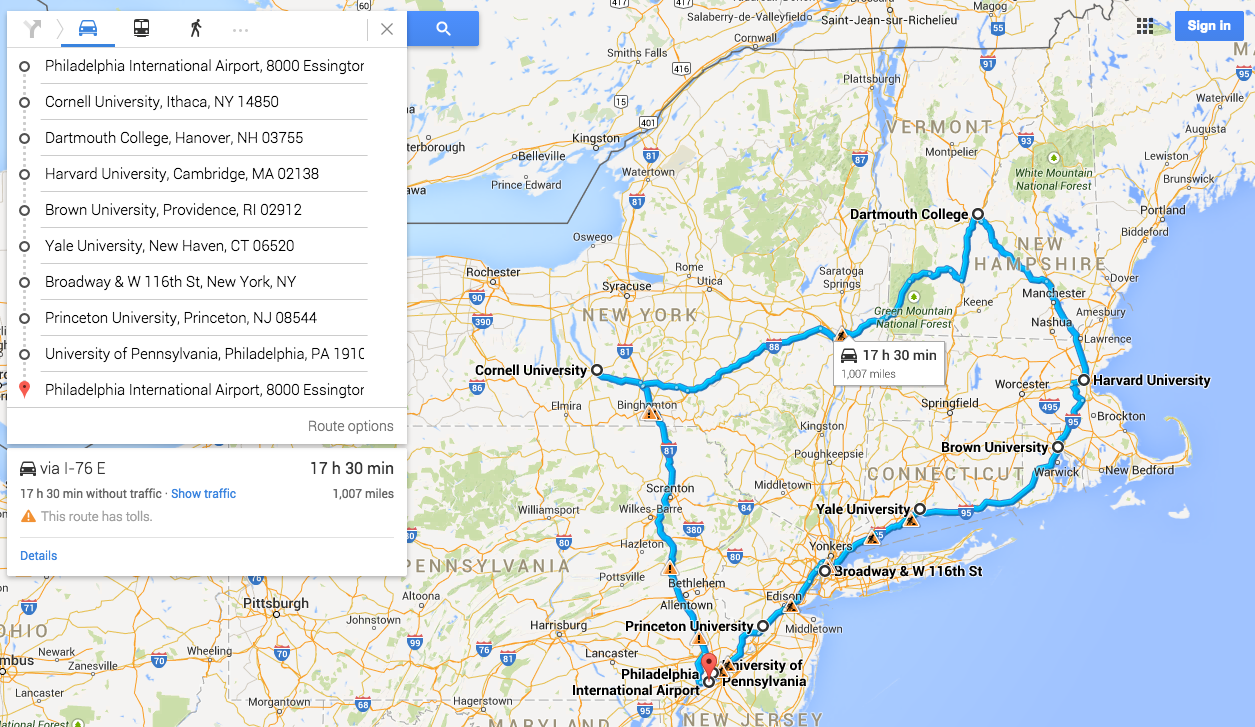 Ivy League College Tour Overview
Our itinerary assumes you arrive on a Sunday evening and leave the following Friday evening. While there are several places to start your journey, we opted for Philadelphia over Boston and NYC simply because it worked better logistically for our assumed dates of travel (3/1-3/6). As can be seen in the map above, we're going to take a big clockwise loop around the Ivies, with long distances driven at the beginning of the trip to get it out of the way, and two-a-days afterwards for schools which are situated closer geographically.
We define a visit as staying for at least one information session and one campus tour. As you'll see, the itinerary actually provides some flexibility in how long you choose to spend at most of the campuses.
Day 1: Cornell

Our tour of the Ivy Leagues starts and stops in the City of Brotherly Love, Philadelphia. After arriving at the airport on Sunday, get your rental car and make the four hour drive to Ithaca, NY for your first stop, Cornell University.
Catch the morning Undergraduate Information Session (10:10am - 11:00am), grab lunch on campus and take the afternoon General Campus Tour (1:25pm-2:25pm).
If you're really mesmerized, take the Freshman Experience Tour (2:45pm-3:45pm) to check out the residence halls, dining halls and what it's like to be a freshman.
When you're done, set sail for Hanover, NH, the site of your next stop, Dartmouth College. It's a 5 1/2 hour drive, so depending on how you feel you can drive the whole way and spend the night near campus, or drive part of the way to lessen your drive the following morning. Albany is a good mid-point to grab dinner and spend the night.
Day 2: Dartmouth and Havard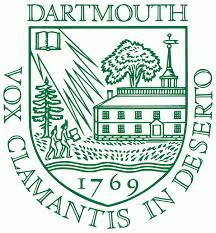 Big university gives way to a smaller college feel as you head into Dartmouth. Arrive early to soak up some of the campus vibe before attending the 10:30 information session (45 minutes) and 11:00am campus tour (60 minutes). Getting to campus early is important because you'll need to make a beeline for Harvard immediately after the tour in order to make the 2:00pm information session (2 hour drive). Attend the 3:00pm campus tour afterwards.
Spend the night here to enjoy Cambridge and Boston. Once again, it's a good contrast from Cornell and Dartmouth, as you've shifted from a rural to more urbanized setting. There's plenty to do in Harvard Square, and the "T" (subway) is easily accesslble and will get you quickly to downtown historical sites, shopping and the North End for good Italian food.
Day 3: Brown and Yale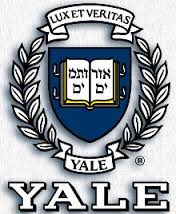 Day 3 begins with a relatively short (60 min) drive to Providence, RI, the home of Brown University. Attend the 9:00am tour (1 hour) and the 10:15am information session (50 min) before heading to New Haven for your afternoon at Yale. The drive takes about 1.5 hours, so you'll need to leave no later than 11:30 in order to make your 1:00pm information session. This session lasts 75 minutes and is followed by a 2:30pm campus tour, which runs until 3:45pm.
At this juncture you can opt to spend the evening in New Haven, or make your way into New York City in anticipation of your visit to Columbia the following morning. We recommend making the 90 minute drive to NYC so you can enjoy the city and avoid the rush hour traffic the following morning.
Day 4: Columbia and Princeton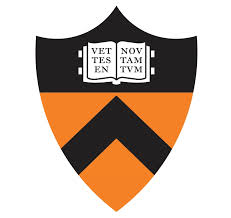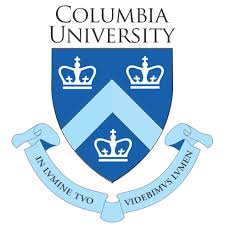 Attend the 10:00am information session at Columbia (1 hour), as well as the 11:00am tour immediately thereafter (1 hour). Grab lunch in the city, but plan to leave no later than 12:45pm to be sure you can make the 2:15pm information session at Princeton. A campus tour ensues at 3:30pm, after which you can choose to spend the evening at Princeton or drive an hour to Philadelphia for your final stop and more city life.
Day 5: UPenn

Your final day includes just one campus, the University of Pennsylvania. Attend the 11:00am tour, grab lunch on campus, and sit in on the 1:00pm information session. Each of the schools at UPenn also host their own information sessions and tours, so stick around longer to check them out if you find UPenn to your liking.
Either way, congratulations, you've completed your whirlwind tour of the eight Ivies in just five (fully packed) days.
Of course, there's no need to visit all Ivies, much less in five days, so feel free to borrow and tweak our route plan by clicking on the view itinerary button below. And for those of you looking to create your own tour plan (with our without Ivies), click on the create tour button to let our college tour planner get you rolling.