10 February 2015
Introducing the College Tour Planner
College trip planning made easy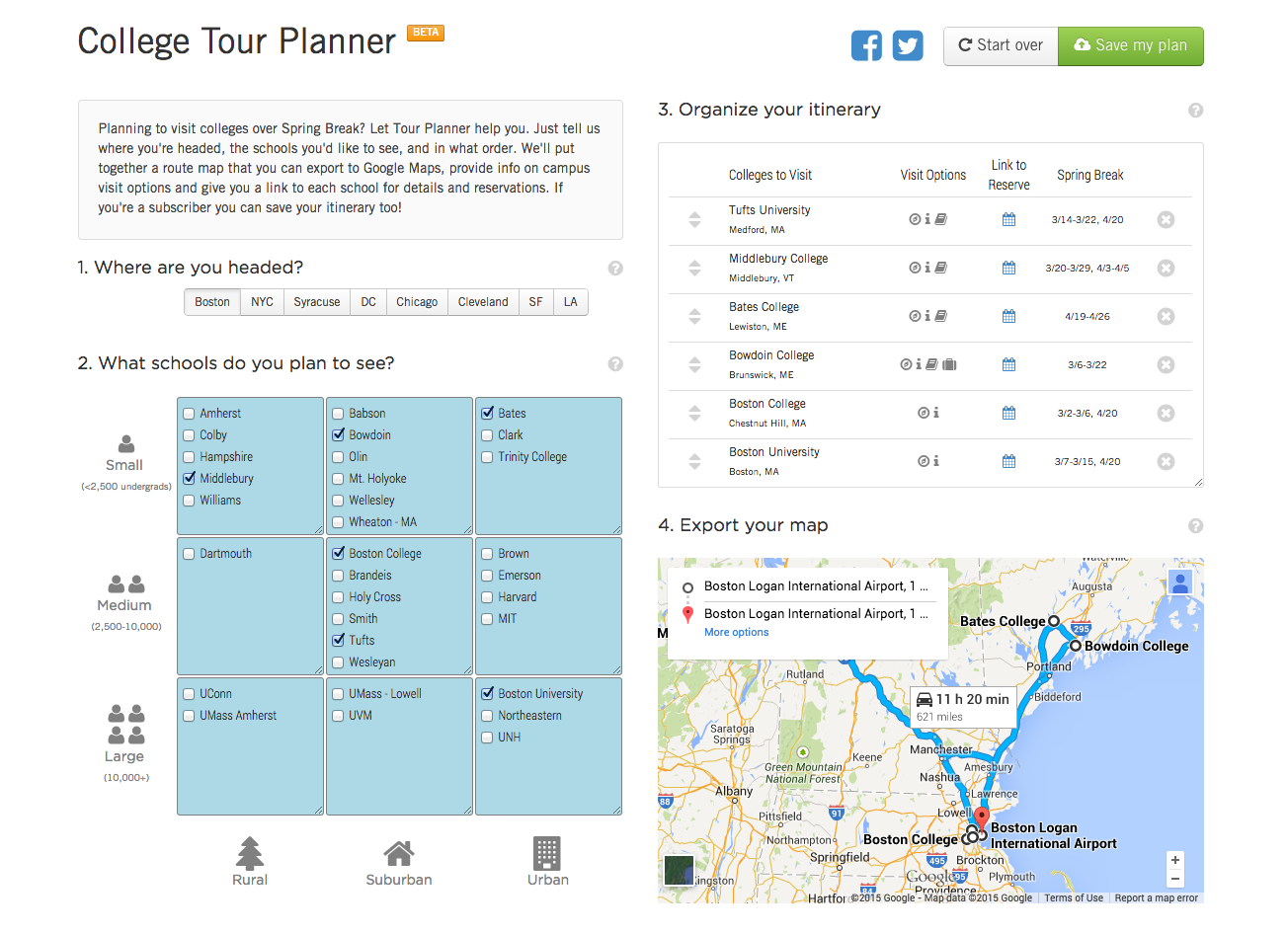 We're pleased to introduce a new tool to the College Kickstart portfolio, the College Tour Planner. Just in time for spring break, this nifty application makes it easy to put together a college tour in a pinch. Click on the Continue Reading link below for the scoop.
---
Have no fear, College Tour Planner is here!
Let's face it, it takes a lot of hard work put together a good college tour. You've got to figure out where to go, which schools to visit, how best to take advantage of campus visit options, and how to squeeze it all into a week or long weekend.
College Tour Planner makes this process much more pleasant:
You tell us which of eight popular destinations you're headed to
We'll present to you a list of popular schools in the area, organized by size and setting, to help you quickly narrow down your choices
For every school you've selected, we'll note available visit options and provide a link to their visit calendars for details and reservations
Once you've ordered your list, we'll automatically generate a route plan which you can export to Google Maps and customize however you see fit
---
Tell us where you're headed

We've identified eight popular launching points for college tours: Boston, New York City , Washington DC, Syracuse, Chicago, Cleveland, San Francisco and Los Angeles. For this version of the product, we assume that the airport in this city is the start and end point for your travels.
---
Figure out which schools you're interested in checking out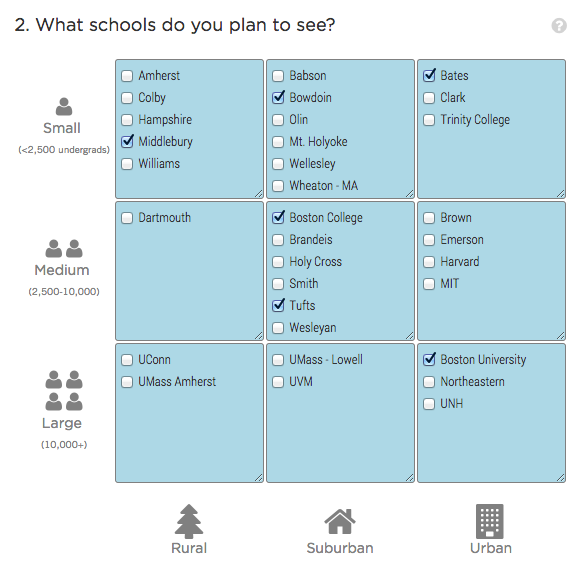 For each city, we've identified several popular schools within a 200 mile radius and segmented them by undergraduate population and campus setting. If you hover over a school, you'll be able to see some basic information about test scores and admission rates to help you narrow down your choices further.
To add a school to your tour list, simply click on the checkbox next to the school name.
---
Organize your itinerary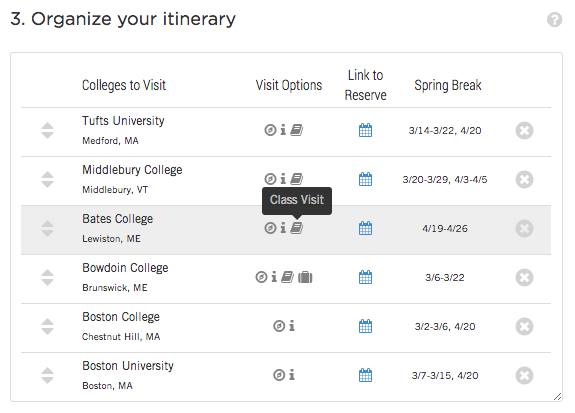 Once all of the schools have been added to your list, it's time to check out your campus visit options and determine what and when to take advantage of them. To help you with this process, we:
Highlight campus visit options

. Visit options tracked include campus tours, information sessions, class visits, the ability to have coffee/lunch with a student and overnight stays (mostly for seniors).
Provide links to school visit calendars and reservations

. To check out the school visit options in more detail and to make reservations, click on the provided link to the school visit/calendar pages.
Alert you to times when school may not be in session

. To get the most out of your tour, it's best to visit when school is in session. We identify known dates when school is not in session to help you avoid these visiting when no one's around.
Sequence your trip

. Once you've gotten a feel for options and timing, simply drag and drop the schools in your tour list in the order you'd like to see them.
---
Export your map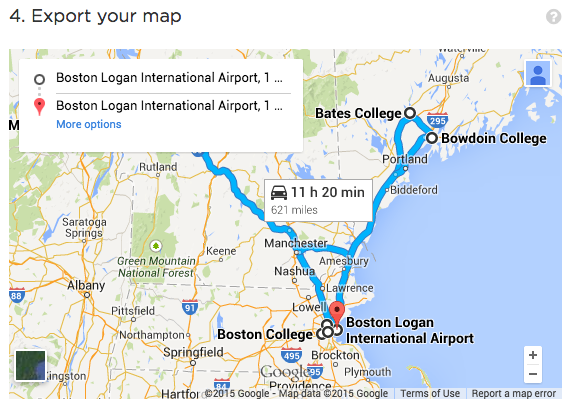 College Tour Planner automatically prepares a route map based on how you've sequenced your list, along with an estimate of total driving time. Of course, it's pretty likely you'll be making iterim stops to visit friends or sightsee along the way, so export your route map to Google Maps so make the necessary tweaks. To do this, simply click on the "More options" link at the top left corner of the map and a new Google Maps window will open. If you're logged in to your Google account you'll be able to share/save your link.
---
Wrapping up
So there you have it, college tour planning made simple with College Tour Planner. Over the course of the next several weeks we'll continue to enhance it with more cities and schools, and for now the application is freely available to both existing subscribers (who can save their tour plans) and non-subscribers (who can't).
If you're a current subscriber, you can access the tour planner from the Kickstart 2015 menu. If you're a guest user, you can access it at https://www.college-kickstart.com/college-tour-planner.
Ski week and spring break are right around the corner, so give it a try and let us know what you think!