24 February 2015
Southern California College Tour (Foodie Edition)
5 Great Colleges for Foodies in 4 Days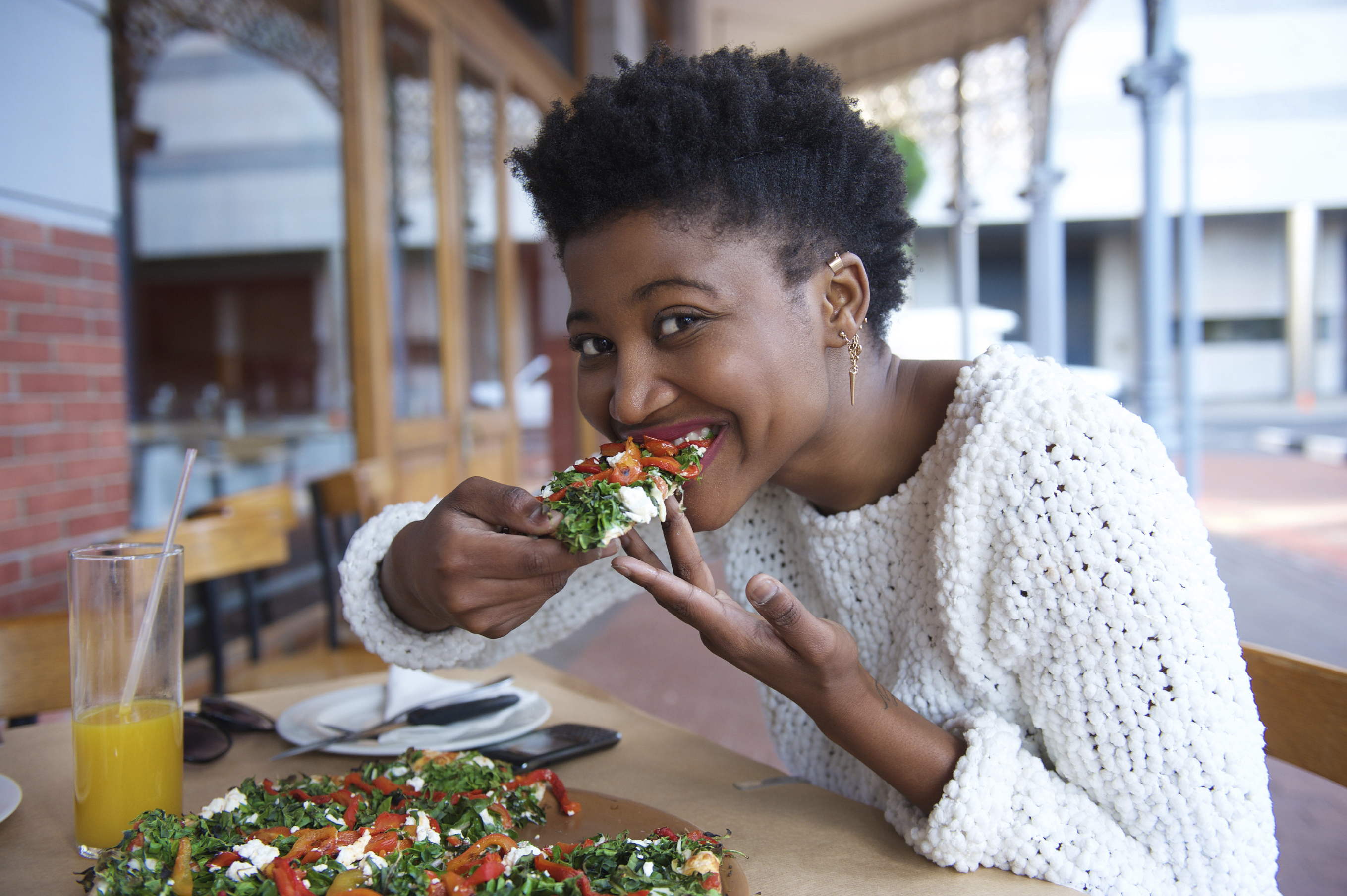 It's time visit colleges, and as a foodie, you're looking for schools that do more than enlighten your mind—they've also got to stimulate your taste buds. Where should you go?
If you're headed to Southern California, we've got just the itinerary for you—a mix of schools with great reputations for both academics and food scene, courtesy of The Daily Meal.
Read on for the itinerary, commentary and tour times.
---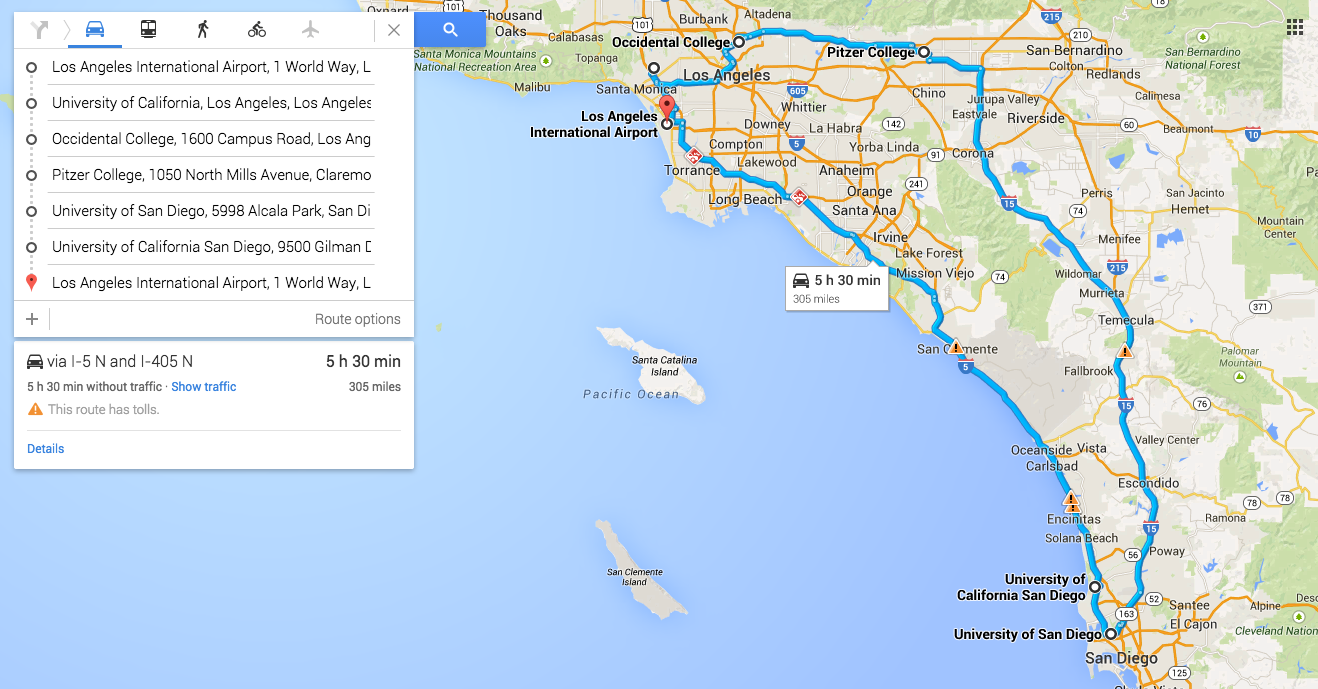 Tour Overview
Our itinerary assumes you arrive in Los Angeles on a Sunday evening and leave the following Thursday evening from Los Angeles as well. As can be seen in the map above, we'll do a loop from Los Angeles down to San Diego and back to check out a mix of small, medium and large schools with reputations for both strong academics and great food. To come up with the list, we looked for a good blend of school sizes and settings that also made it to The Daily Meal's list of Best Colleges for Food.
We define a visit as staying for at least one information session and one campus tour. Though we've compressed five campus visits into four days, feel free to spread things out or compress it even further.
At the bottom of the page we've provided a link to the Google map for your to customize and save to your Google account, as well as a link to our College Tour Planner if you want to customize your own tour from several popular cities across the nation.
Day 1: UCLA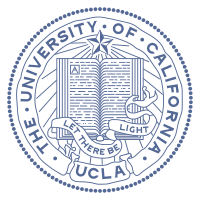 We start our college tour at UCLA, the nation's #2 public university and #23 overall according to US News and World Report. Located in suburban Westwood, the campus is a haven, and better yet, within 15-20 minutes of Santa Monica and the Pacific coastline. With over 40,000 students (30,000 undergraduates), UCLA is your classic large public research institution. It's also one of the toughest UC campuses to get admitted to, with over 100,000 applications each year and an admission rate south of twenty percent.
Catch the 10:15am tour, which will loop you through the picturesque campus and each of the five undergraduate colleges. On weekdays, Ackerman Union is usually bustling with activity and should give you a good feel for the campus vibe.
Apart from being an elite public university, UCLA is home to a thriving and health-conscious food scene. On campus programs educate students about healthy living and eating, and include access to an on-campus registered dietician. There's a also a serious commitment to sustainability, and plenty of options for vegans; in fact, UCLA was awarded the most vegan-friendly campus from PETA.
Don't let this health talk scare you off, though—UCLA has some serious eats, ranging from mouthwatering dumplings and seafood pizza to customizable ice cream sandwiches. For lunch, there's always the food court at Ackerman, or the Kerckhoff Coffee House, but we recommend seeking out more unique options, like FEAST (Pan-Asian cuisine), Bruin Plate (health-themed dining hall) or Il Tramezzino (paninis). All told, the programs and cuisine put UCLA at #13 on The Daily Meal list.
Enjoy the rest of your day in Westwood, nearby Santa Monica, or the beach scene along the Pacific Coast Highway.
Day 2: Occidental College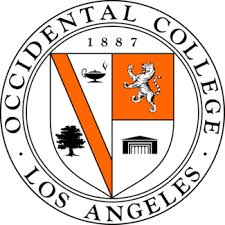 Your destination for Day 2 is Occidental College ("Oxy"), a well-regarded liberal arts college situated in the Eagle Rock neighborhood about 35 minutes northeast of UCLA.
With a total student population of just over 2,000 and a focus on undergraduate teaching, Occidental poses a striking contrast to UCLA. Class sizes average 19 students, and cross-registration is available at nearby Caltech and the Art Center College of Design in Pasadena. Students here tend to be progressive, politically and globally aware, with 75% of students participating in junior year abroad or overseas research.
Catch the 10:15am tour and 11:30 information session, then get a feel for the campus vibe over lunch.
Speaking of food, Occidental ranks #8 on The Daily Meal list. Oxy dining stands out for its made-from-scratch, small batch kitchen and an array of five-star restaurant offerings like balsamic-glazed chicken, butternut risotto, and braised beef ribs. And if these don't whet your appetite, food can be made to order. Dining services here is not outsourced as it is in many other colleges; it is wholly an Oxy operation.
Day 3: Pitzer (Claremont Colleges)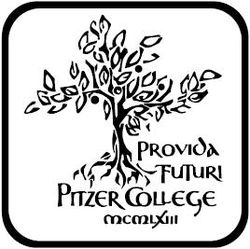 Today you'll visit Pitzer College, a small liberal arts college ranked 35th by U.S. News and World Report for liberal arts colleges and 27th by The Daily Meal for best food colleges.
As part of the Claremont Colleges, Pitzer—and its sister schools Pomona, Claremont McKenna, Scripps and Harvey Mudd—are all distinct institutions which share facilities, programs and resources. It's a unique setup where you can benefit from the intimacy of a small liberal arts setting as well as the breadth of offerings and social community of the consortium as a whole. Each of the schools offers a unique personality, and while we've selected Pitzer as the one to visit, feel free to substitute it with another Claremont college that aligns better with your interests. And given that the five campuses are all adjacent, you can easily squeeze in a second campus visit if you'd like.
Speaking from personal experience, the food scene is awesome here. Students can eat at any of the dining halls across all five campuses, and there's no shortage of options. Start your day with breakfast at Pitzer's McConnell Dining Hall, where reviewers rave about the fresh-squeezed juices, smoothies, and "the best" omelets and pastries on campus.
Afterwards, catch the 9am information session and 10am tour. This should take about two hours, and when you're done, take a short walk to any of the other adjacent campuses to grab lunch and take in the vibe of a second school. Malott Dining Hall at Scripps is a great lunch spot, as is Collins at Claremont McKenna.
Make your way down to San Diego for the evening for the final leg of the tour.
Day 4: UC San Diego/University of San Diego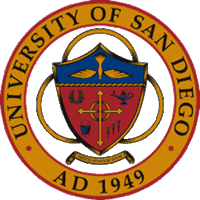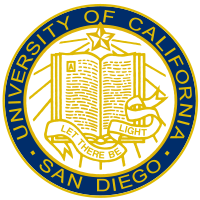 We'll wrap up final day with two campus visits. First, we'll head to La Jolla to tour the University of California at San Diego (UCSD), another top ranked public university and #19 on The Daily Meal's list of best colleges for food. Situated on a bluff overlooking the Pacific Ocean, UCSD offers breathtaking vistas and easy access to great surf. Like UCLA, UCSD is a large research institution with a competitive admissions process, though it's easier to get into (34% admission rate vs. 19% at UCLA). Unlike UCLA, UCSD employs a unique six college system designed to provide students the advantages of a small liberal arts college plus access to the resources of a large research university. Each of the colleges—Mashall, Muir, Revelle, Roosevelt, Sixth and Waren—vary in terms of mission and student makeup, so be sure to dial in on the one(s) that fit your needs best.
Your tour starts at 10:00am, lasts for 90 minutes, and is followed by a 30 minute information session.
On the food front, there are plenty of great dining choices in La Jolla and San Diego proper. But with chefs trained by award-winning culinary schools, it's easy to eat happily and healthfully right on campus. From authentic taco trucks to themed food fairs and even chocolate festivals (you know you've been dying to find a campus with a chocolate fountain), UCSD seems to have the best of it all.
After your tour, grab lunch on campus (Mines gets good reviews), then head south on I5 for 15 minutes to the University of San Diego (USD) for the 1:30pm campus tour.
Up until now, you've visit either large campuses or small liberal arts colleges. With USD, you something in the middle. Ranked #95 for national universities by US News and World Report, USD is a mid-sized, private research institution with 5,700 undergraduates and a total enrollment of 8,300. USD is also situated in an urban setting, with downtown San Diego an easy 15 minute drive away.
After your tour, which lasts about two hours, take in the food scene. The Daily Meal ranks USD #30 nationally and lauds it for its food events, late-night dining food truck, and myriad of off-campus dining options covered with CampusCash. Check out the choices and people watch at the Student Life Pavilion, grab a coffee at Aroma, or visit La Paloma or Bert's Bistro for sandwiches, sushi, or barbecue.
Make your way back up to Los Angeles for a late evening flight out, or simply leave directly from San Diego.
Wrapping Up
There you have it, a whirlwind tour of five schools in four days. They represent a good mix of sizes and settings to help you imagine the possibilities and all are poised to provide you a great education and feed you well along the way!
Of course, there's no need to visit all of schools we've covered, much less in four days, so feel free to tweak our route plan by clicking on the view itinerary button below. And for those of you looking to create your own tour, click on the create tour button to let our college tour planner get you rolling.