Let our data-driven approach make a difference for you
Finding fit and voice. Crafting application elements into a compelling whole. Guiding students through the process with greater confidence and less stress.
This is the art of college admission, and your mastery of it sets you apart from the pack.
But the best laid plans must also be grounded in reality, and that means keeping vigil on the latest admissions data and how it impacts your students.
It's detailed, time-consuming work. And every hour spent hunting data is an hour less spent counseling your students or growing your practice.
That's where College Kickstart comes in. We help manage the science so you can focus on the art. There's no better way to avoid surprises, manage expectations and free up time to do what you do best: advise!
---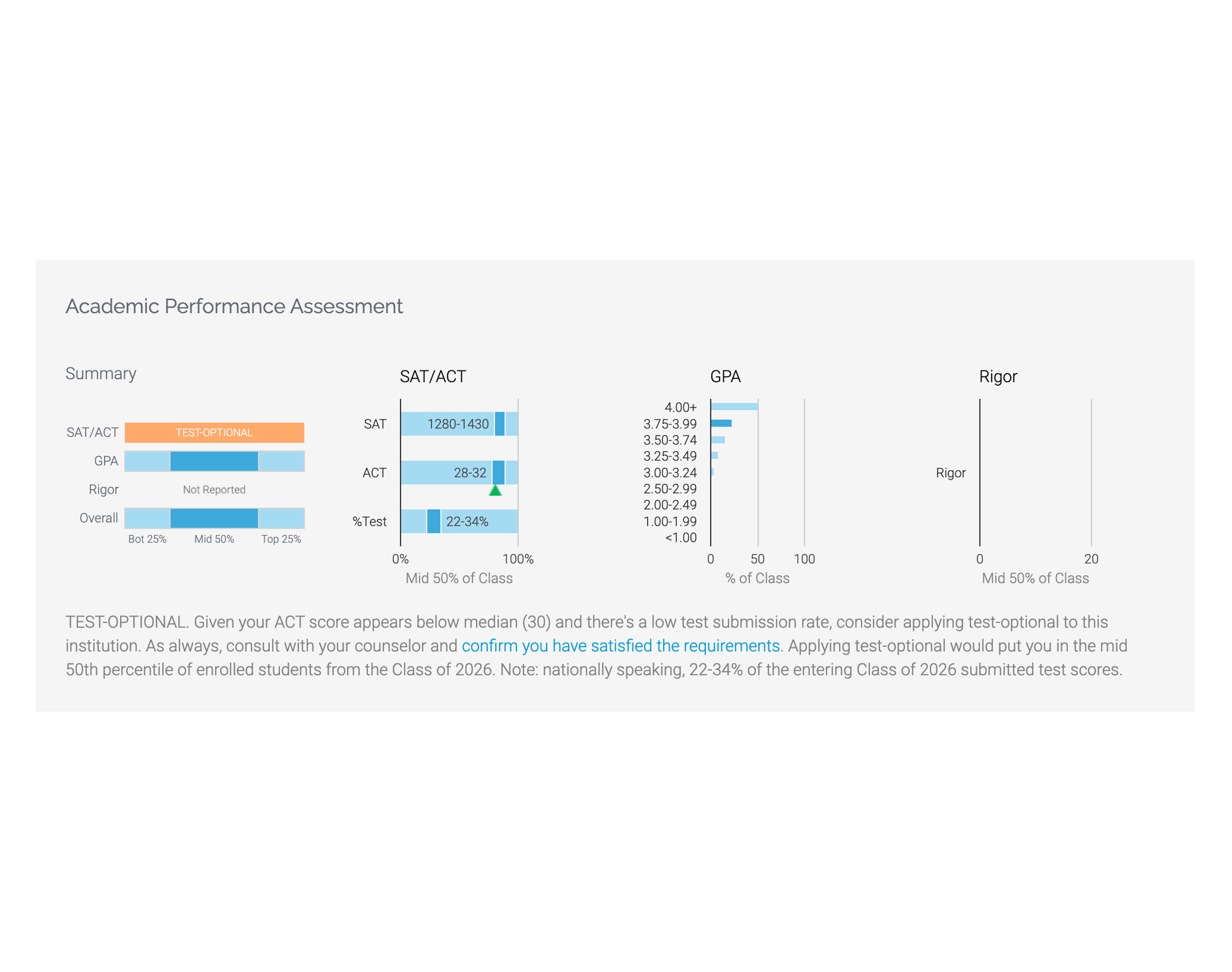 Ready for a Test-Optional World
With test-optional driving a new normal in college admissions, it's essential to stay on top of the latest national trends and how they impact test submission strategies for your students.
Put College Kickstart to work for you. We'll help you:
Track the latest standardized testing policies and score submission rates by institution
Automatically handle test-blind/score-free institutions when assessing academic performance
Analyze and recommend opportunities to apply test-optional for each school in a student's list
It's a terrific way to incorporate test-optional consideration into your planning process.
---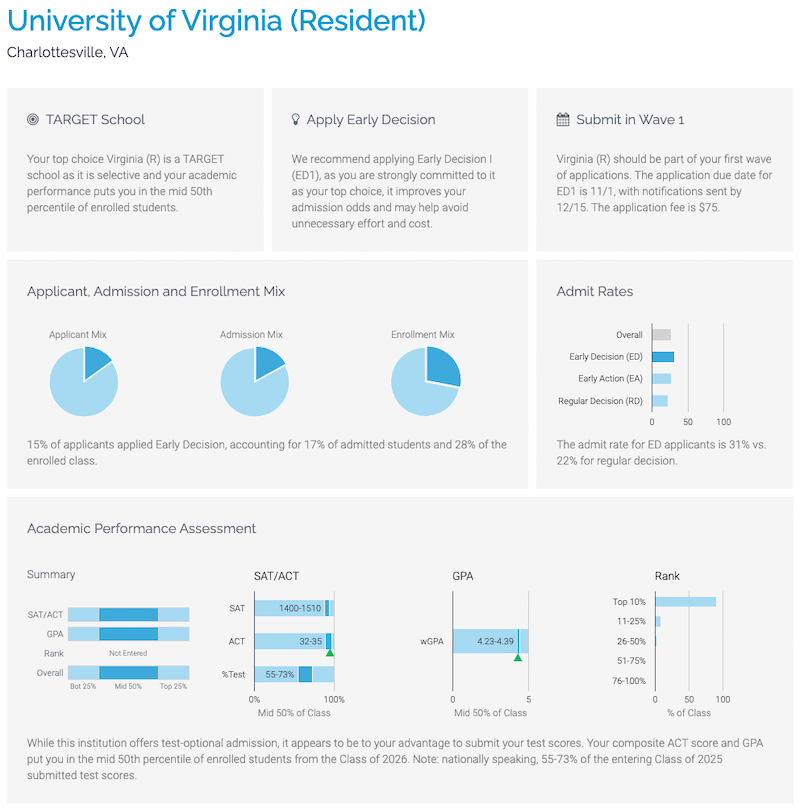 Enriched admissions data
If schools like Boston University, Northeastern and USC are popular with your students, you've seen firsthand why you can't afford to rely on stale admissions data to guide your plans.
College Kickstart helps you stay on top of the changes and minimize surprises. We start with the Common Data Set as our foundation, and enrich it in several ways to make sure you're working with the latest and most complete data available. We scour institutional research websites, news releases and other credible sources to track current year early and regular admission rates, key application requirements, affordability data, and even admission rates for 400+ departments across 60 popular institutions including Cornell, Tufts, Carnegie Mellon, Georgia Tech, UCLA and the University of Virginia.
Spend less time data hunting and more time being your student's college whisperer.
---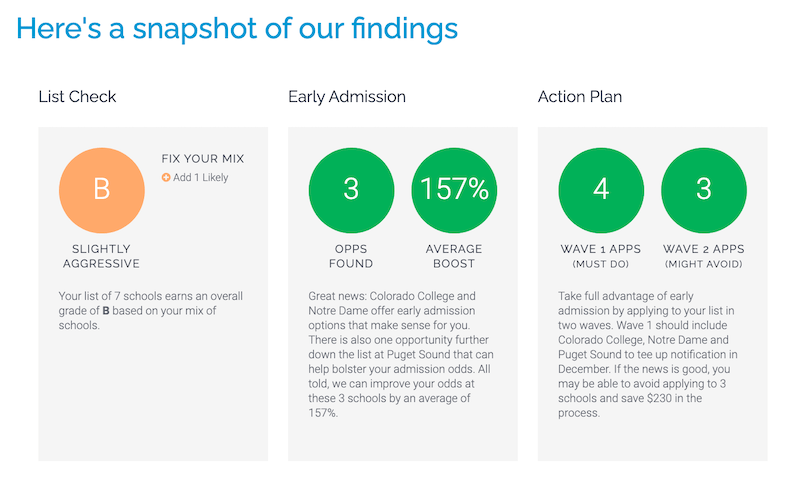 Personalized insight
College Kickstart not only keeps vigil on the data for you, it also helps you understand the implications of that data on each student's personalized plan.
Given a list of schools each student has in mind and their academic credentials, we'll make it easy to:
Ensure the list is balanced and set up for success
Capitalize on early admission opportunities
Minimize wasted effort along the way
Track key application requirements
Consider affordability as part of the plan
Better yet, plans are automatically updated each time the student's list of schools or academic profile change.
It's a tremendous time saver and yet another way we help you take care of the nitty-gritty so you can focus on providing counsel.
---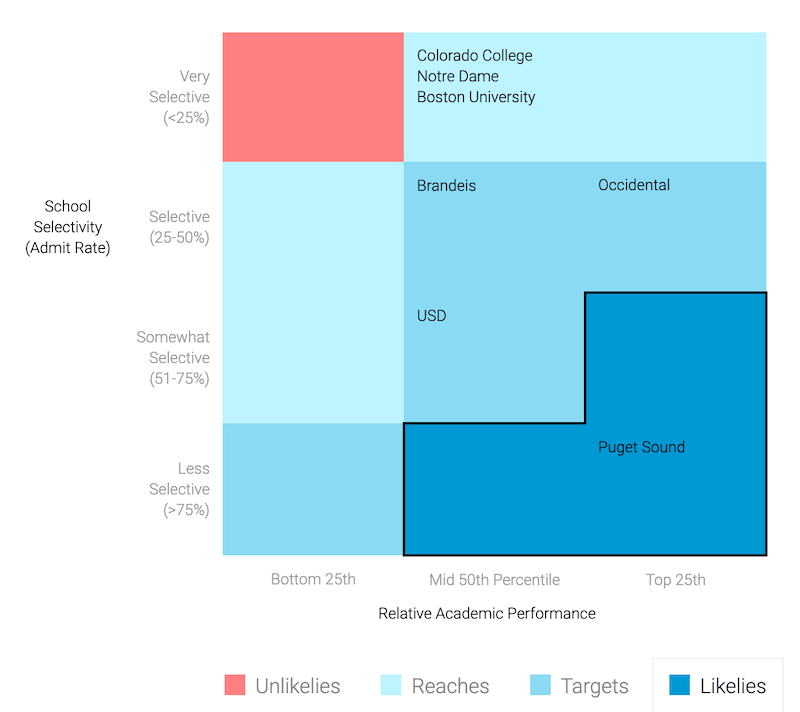 Aligned expectations
Managing student/parent expectations is always a delicate task.
Let us relieve some of the stress by providing the hard data to support what you know instinctively. Our objective, data-driven approach helps take emotion out of the equation and lets you spend less time "dream killing" and more time on setting up your students for success.
---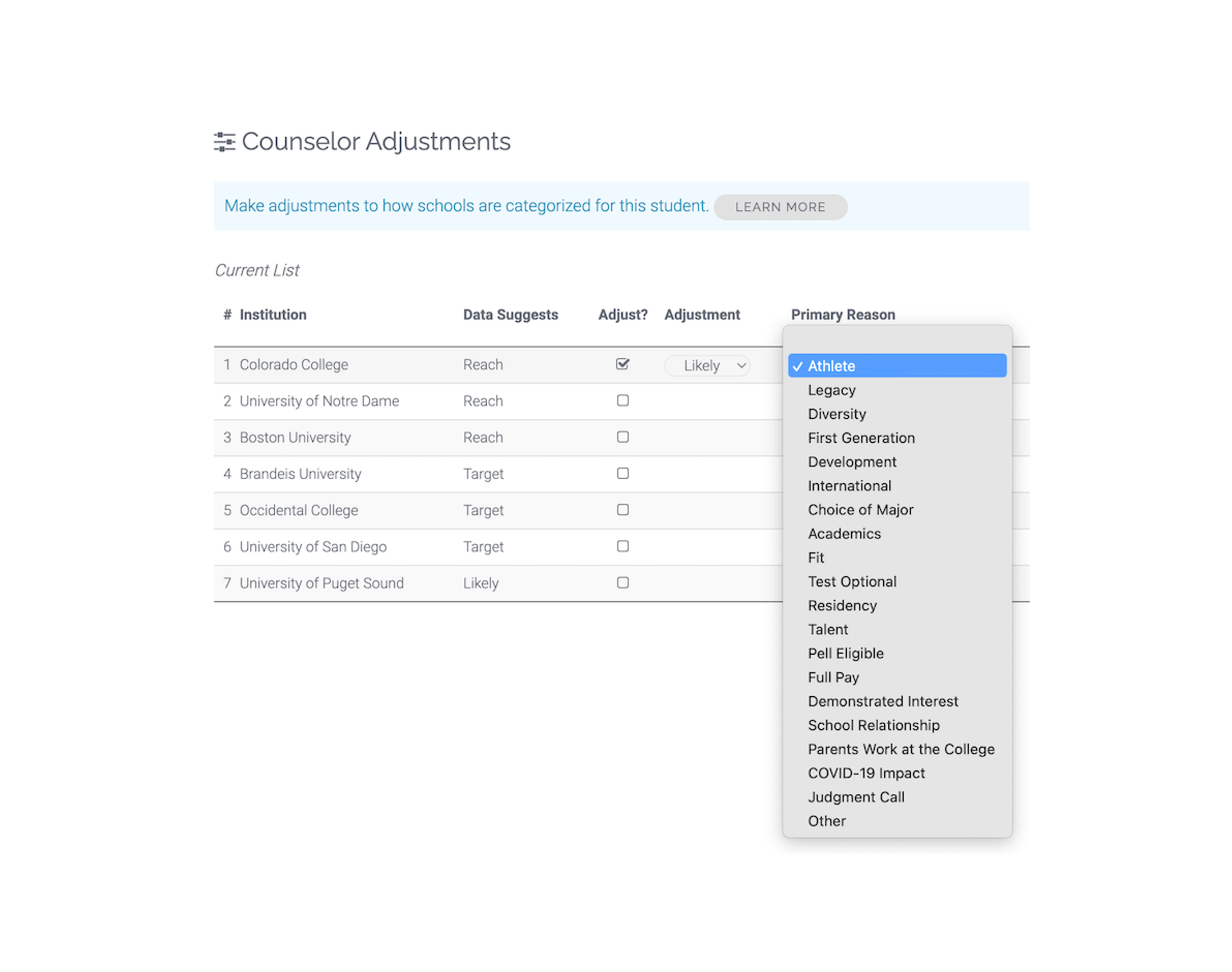 Control
When the hard data isn't fully accounting for an applicant's special talents or circumstances, stay in control with counselor adjustments.
Counselor adjustments allow you to adjust how schools should be categorized for a particular student, making it easy to incorporate qualitative factors into list assessments.
It's a terrific way to handle applicants with special talents or circumstances, applicants applying to highly selective majors, and/or applicants with inconsistent academic credentials.
---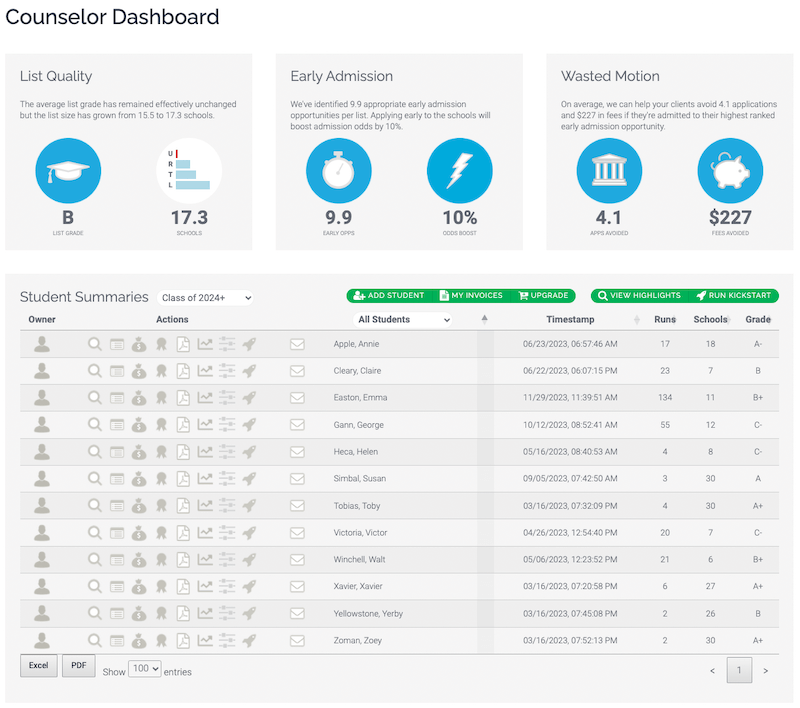 More time to advise
Less time keeping vigil on the data and implications for your students means more time to do what you do best: advise!
Our counselor dashboard makes it easy to track the latest plans and activity history for each student under your charge. You'll have one-click access to:
Plan summaries
Key application requirements
Need-based financial aid ratings
Merit-based financial aid ratings
You'll also be able to track the impact you're having on list quality, early admission and wasted motion and quickly identify students who need more attention.
---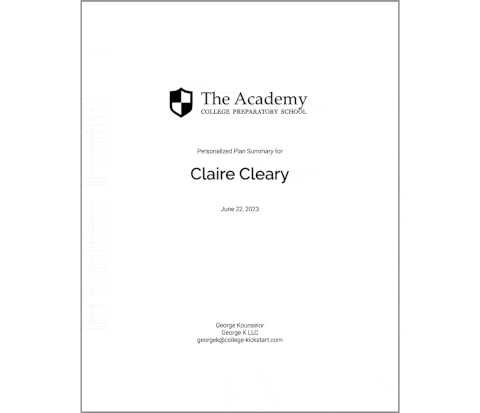 Branded deliverables
Prepare professional-quality deliverables for your clients with our personalized plan generator.
The report closely follows the structure of our web application and may be customized with your logo and tailored commentary for your students.
Use it to convey your value anytime during the planning process. It's terrific way to combine your expertise with College Kickstart's data-driven insights to ensure your clients are on the right track.
Available for counselor plans with 10 or more students
---

Works the way you work
Use College Kickstart in the way you feel most comfortable. Plans can be driven by you, the student, or begin with you and passed to the student when you deem them ready. Better yet, you can decide on an individual student-by-student basis when to pass control, if ever.
---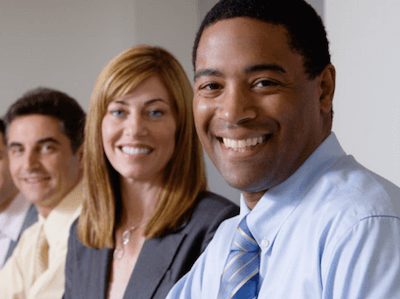 Solutions for large practices
If you're running a larger practice with multiple college consultants serving 60 or more clients each year, inquire about our large practice solution, which includes:
Multi-user support

. Support is provided for multiple counselors operating as a single entity. Each counselor is provisioned their own account and dashboard to track and manage students under their charge, while results are rolled up as a single entity.
Student outcome capture

. The large practice solution allows admission outcomes, applicant hooks and financial aid awards to be tracked with ease for each student.
Outcome reporting

. Several reports are available to gain insight into outcomes and trends.
---
There are a couple of things I couldn't work without—my computer and College Kickstart. It gives my students all of the data they need. I am there with them every step of the way, but College Kickstart allows me to step behind, so the decisions become their decisions. The college application process is a maturation process and I am there to guide and empower. College Kickstart helps me do that.

Karen Hyde
Hyde Consults

College Kickstart is a game changer for me. It removes the emotion that often occurs when reviewing admissibility and the college list with students and parents because it's based on objective data, not just my opinion. It's helped me elevate my brand. The online interface is especially useful in a remote setting when face to face meetings are not possible.

Jeff Knox
PrepMatters

College Kickstart has made me more productive and is a real price-performer. For less than what you'd charge for an hour with your students, you access rich data in an easy to visualize format that you know will be helpful to your practice. I think it's a great tool for me and my students.

Kathryn Miller
Miller Educational Consulting

College Kickstart enhances my productivity and has helped me grow my practice. I save time, manage expectations, and have the data to back up my recommendations in a format that families really appreciate.

Nicole Lincoln
Upward College Planning

College Kickstart is a program designed for this generation of prospective applicants and their families. In a season where students are overly anxious about building a balanced college list, College Kickstart is a platform that validates a college counselor's recommendation. A place where consultants can utilize a system that has aggregated data supporting admissions criteria along with financial aid needs, this is one program that has been a game changer in my consulting practice. Even with many years of experience, to have a system that can link all the necessary pages pertinent to each college's website, while providing data on the selectivity of schools, I know this program has only been an asset to my field of work!

Joyce Wong
Mill Creek Academy

"College Kickstart helps me take the guesswork out of creating college lists. In the data-driven world we live in today, it gives my parents a sigh of relief and it helps me explain why and how I narrow down the college lists they come with. It also helps me add schools they hadn't considered.

Aesthetically, I love the simplicity of your product. It's clean and easy to navigate. And, It frees up time during those super crazy application months!"

Ranna Patel
Ranna Patel Consulting

"I have to say it again...I love College Kickstart! It has made a huge difference with my clients and families."

Deb Davis Groves
Davis Groves Educational Services
In the words of our customers
Independent educational consultants play a critical role in helping families navigate college admissions with greater confidence and less stress.
We're honored and proud to work with some of the best independent educational consultants across the nation.