Make sense of your college list
We'll help you create a well-balanced list of colleges – one that's grounded in current admissions data and tailored to your academic profile.
Our data-driven approach draws on admissions data from over 700 U.S. institutions, as well as 400+ departments across 60 popular private and public universities such as Cornell, Tufts, Carnegie Mellon, Georgia Tech, UCLA and the University of Virginia.
---
---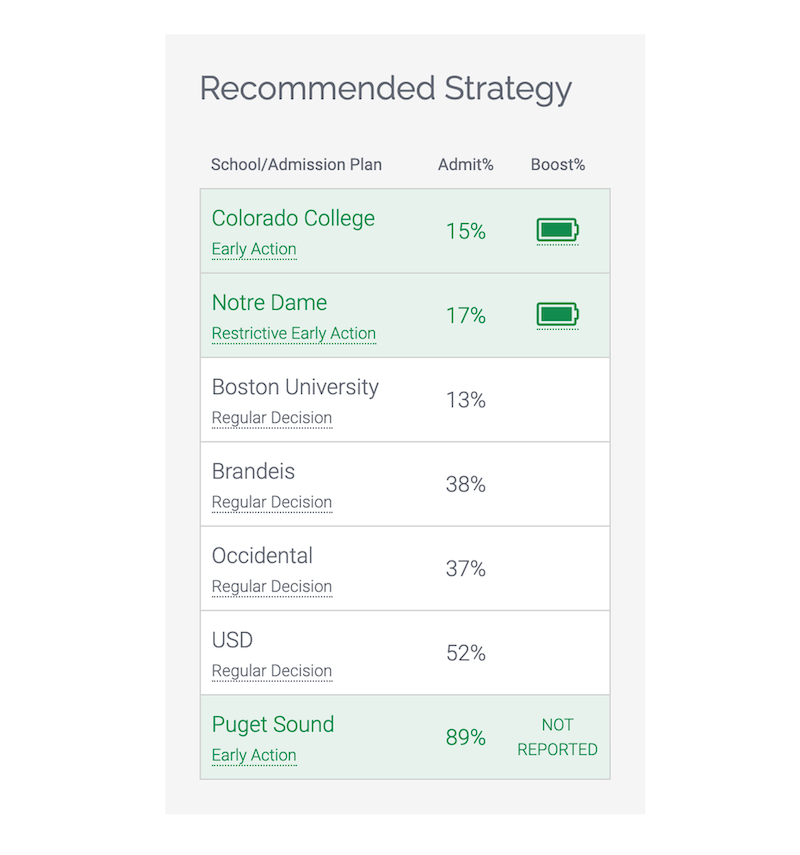 Maximize admission odds
We'll let you in on a big secret: early admission. Did you know you can often enhance your admission odds by simply applying 45-60 days early?
Unfortunately, making sense of it all can get confusing real fast. What's the difference between early decision and early action? How does restrictive early action work and is it the same for all schools that offer it? If you apply early to a school on your list, how does it impact the way you can apply to the others? Does it always make sense to apply early?
Let College Kickstart demystify early admission for you. We track the latest available data and show you how to take full advantage of your opportunities in a way that's both appropriate and within the rules. Our proprietary recommendation engine is driven by a number of factors, including the rank order of your list, the early admission options offered by each school and their restrictions, and the degree to which you're committed to your top schools.
---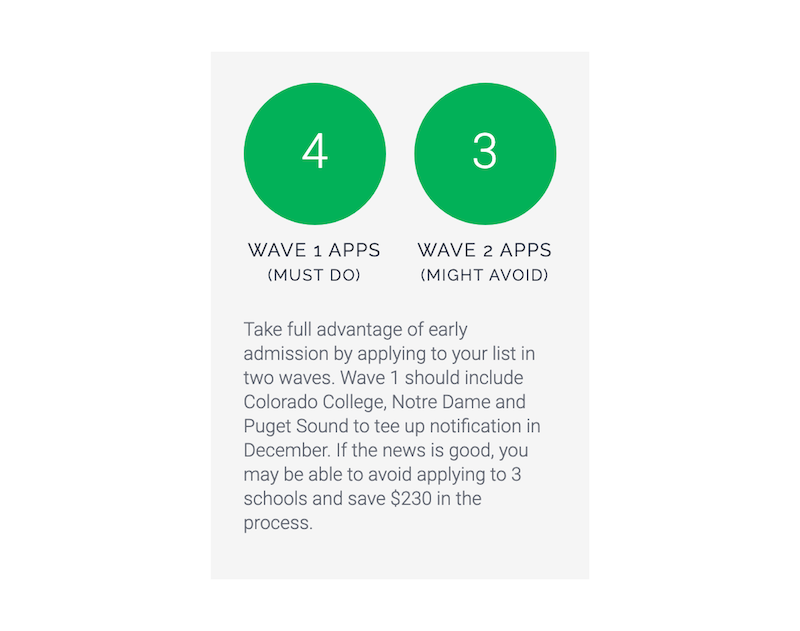 Minimize wasted effort
College Kickstart automatically creates an action plan based on the admission deadlines and notification dates for the colleges on your list. Wherever possible, we'll look for ways to help you capitalize on early and rolling admission to avoid unnecessary work and reduce your application fees.
We'll help you sequence your applications and prioritize the work related to each application. You can easily track the requirements for each application, including essays, recommendations and merit aid deadlines.
Imagine how much your stress level will drop if you're accepted into your early application colleges. You just might kiss those other apps and their fees goodbye.
---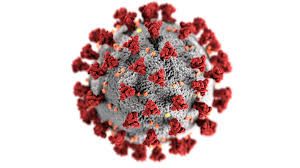 Navigate uncertainty
COVID-19 has introduced tremendous uncertainty around college admissions as we know it.
As colleges retool requirements and processes in response, how will you keep up with it all?
Put College Kickstart to work for you. We'll help you stay abreast of key changes and more importantly, the implications for your plan. Has a school on your list gone test-blind? Tracked. Has another introduced virtual interviews? Covered. Will applying test-optional help or hurt your chances of admission? We'll analyze it for you.
It's an essential way to manage uncertainty and keep your stress level in check.
---
What students say
I think your website is GREAT! It's really helpful to have all the statistics available and to see the probability I have to get into the colleges. The action plan was also good for helping me prioritize my essays."

Alyssa S
McLean, VA

"I liked how this website offers high school students the analytical and statistical information to get admitted to a certain college...Personally, my favorite part was the "Action Plan" because it gives students the opportunity to be realistic with their college choices. And it might even serve as a motivation for them to try harder in standardized testing or their academics."

Presh L
San Francisco, CA

"I found the action plan extremely helpful. Everything was so well organized too! Thanks!"

Conor M
Old Town, ME

"Overall I found it very helpful. I think it is helpful to know if you have a good list of schools and other programs don't provide that in this way."

Natalie L
Saratoga, CA
What parents say
"I really like it. It gives prospective college bound students an idea if they are applying to a good mix of schools that will give them the best chance of being admitted. It's very intuitive and easy to use."

Gene H
Fremont, CA

"Just wanted to thank you for helping guide us through the crazy and stressful world of the college admission process. Your website compiled data in an easy to use format and was very helpful in the application process. Your monthly emails always contained useful information as well. Our son was admitted to his ED school and your analysis and reports saved us time and money throughout the process."

Jon K
New York, NY

"I find it really helpful! It is very useful to get a realistic idea of a rising senior's chances at each college and ensures a comprehensive list of places to apply. It also does the Early Action/Early Decision I/Early Decision II analysis for you, which gets complicated if you are doing this on your own. I LOVE it!"

Victoria Z
San Francisco, CA

"Just wanted to send you a quick email to let you know that my daughter and I really appreciated the information on your website / service. We found that your predictions were very accurate. It was amazing to have my daughter's combination of college selections graded—so that we both knew if she (my daughter) was making realistic choices. Your website saved us time and money and helped us avoid unwanted stress."

Michelle H
Bethesda, MD

"I felt that College Kickstart was key in enabling my daughter to have a fairly stress free college application process. By starting early and playing out scenarios using the tools and data, she came up with a plan and then simply executed. No stress. No mess. So much easier than it had been for my son who used Naviance (because College Kickstart didn't exist yet!)! Thank you, College Kickstart!"

Greer T
Newtown, MA

"College Kickstart is very easy to use, provides clear guidance, and lessens stress...we got an early action acceptance to our son's top choice school! If you have a high schooler applying in the coming years, I recommend you try it!"

Grace U
Raleigh, NC

"I think this is a very cool tool. It is easy to understand and gives people a reality check."

Penny D
Ipswich, MA