05 December 2018
College Kickstart Sneak Peek for High School College Counselors (2019)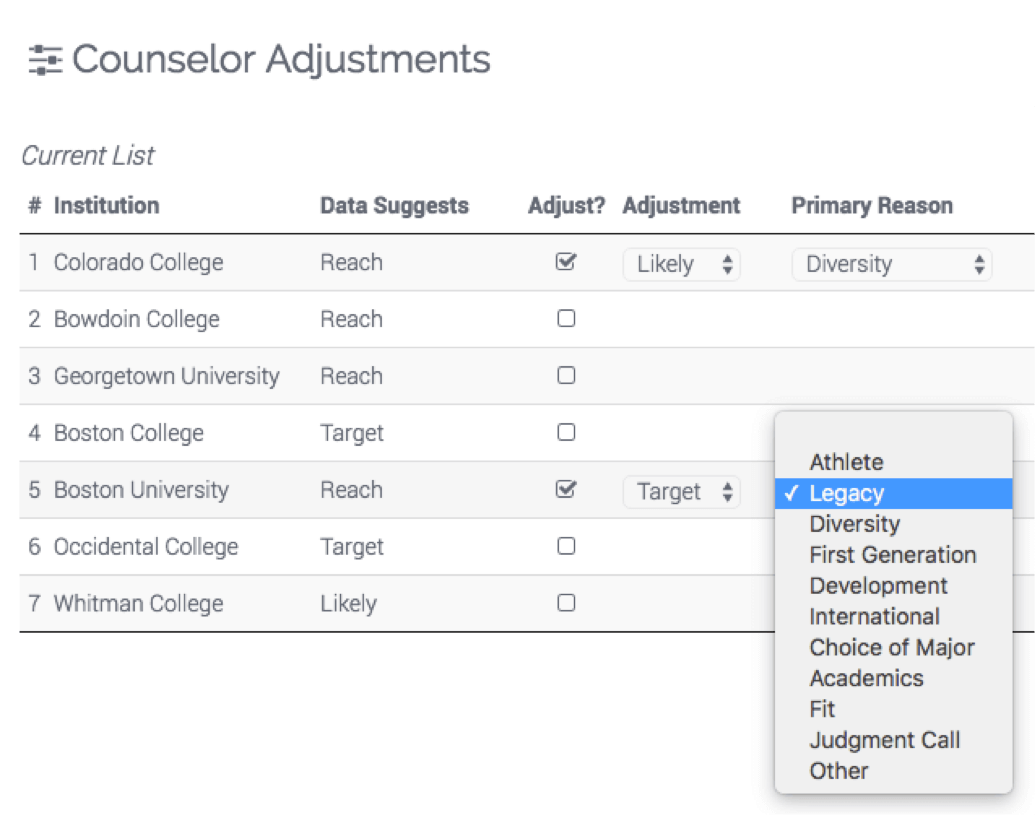 College Kickstart for High School Counselors features several new and exciting capabilities for 2019 to help you manage college planning more effectively and gain greater insight to your results.
---
What's New for High School College Counselors in 2019
Greater School Coverage
Our coverage universe expands to over 550 institutions in 2019 with the addition of more regional colleges and Historically Black Colleges and Universities (HBCUs). Over 50 institutions we cover include data on an additional 350 departments to help you get the real lowdown on engineering, business, nursing and other highly selective majors. For customers using the local context option, we are even able to provide support for popular Canadian and UK institutions where you have sufficient historical data.
---
Counselor Adjustments
New for 2019 is a powerful new capability called counselor adjustments. Counselor adjustments give you ultimate control over how schools should be categorized for students, allowing qualitative factors such as special talents or circumstances to be considered when assessing lists. When needed, adjustments are made on a student by student basis, and once saved, remain in force until deactivated.
It's a terrific way to handle applicants with hooks, applicants applying to highly selective majors and/or applicants with inconsistent academic credentials. If your school only reports unweighted GPA, it's also a great way to adjust for academic rigor.
---
Student Outcome Capture
We've enhanced your ability to track student outcomes in College Kickstart. For each student you'll be able to update their list of schools, change the order of the list, include schools not currently covered in College Kickstart and track outcomes for reporting. Applicant hooks and need/merit awards can also be tracked with ease.
---
Expanded Reporting
Reporting capabilities have also been expanded for 2019:
Enhanced board summary. Customers tracking outcomes directly in College Kickstart can track admission rates by school category (e.g. admit rates for likely, target, reach and unlikely schools) and admission mix by student preference (e.g. top 1/2/3 choice).
New counselor adjustment reports. Counselor adjustments may be tracked along multiple dimensions, including by school, counselor, adjustment reason and school category.
New early admission status reports. Early admission status reports make it easy to communicate early admission results to your board or head of school each January. Results are summarized by application type and provided at a detail level to help you analyze results by institution.
All reports are exportable to Excel and/or PDF.
---
Frozen Lists
Improve process control with our new frozen list option. If you've given your students the ability to take charge of their own plans in College Kickstart, you'll now have the option to freeze their college lists prior to December 31st of senior year. When lists are frozen, control of all student-powered plans reverts back to counselors so that changes after the freeze date can only be made by you and your team. It's a great way to stay in control of any last minute changes to college lists. Better yet, as a counselor you'll also have the ability to rerun College Kickstart for those lists after December 31st.
---
Board Reporting Service (2019 Edition)
While board reporting comes standard with all high school counselor subscriptions, we also offer a fee-based service for non-subscribers in need of help gathering and crunching the numbers. Using a standard export from Naviance, we'll analyze your data and prepare a summary of admission and matriculation results, sliced and diced in a variety of ways to help you identify trends and provide insights for your board.
This includes incorporating latest available Class of 2023 admission rates and reconciling results with the latest Barron's and U.S. News rankings. Quintile reporting is also included to let you assess outcomes by academic cohort and ensure no student is being left behind.
Click here to learn more about our board reporting capabilities.
We'll fill you in on the details in January. In the meantime, feel free to learn more about College Kickstart for Counselors, schedule a demo or check out what our customers have to say by clicking on one of the buttons below.