01 July 2015
Colleges with Small Class Sizes and Attentive Faculty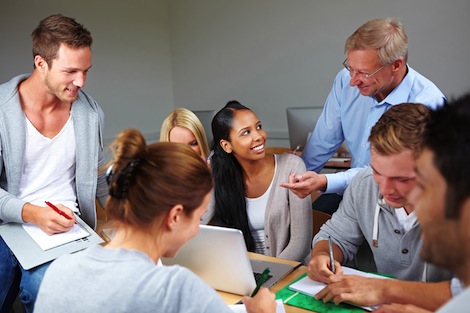 In search of colleges with more intimate learning environments?
Look no further, we've identified 50+ schools that fit the bill. To make the grade, each school has to have at least 70% of their classes with fewer than 20 students and a student/faculty ratio lower than 10:1.
The result: an eclectic mix of private liberal arts colleges and universities where teachers are more likely to know your name, including several institutions featuring tutorial-style or self-directed study programs.
We've included admission rates, mid-50th percentile SAT and ACT scores and links to each school's website to help you explore the possibilities.
Click on Continue Reading for the details.
---
Colleges and Universities with Small Classes and Attentive Faculty
College Kickstart LLC
| Institution | Small Class Mix | S/F Ratio | Admit Rate | SAT Mid 50% | ACT Mid 50% | Link |
| --- | --- | --- | --- | --- | --- | --- |
| Saint Johns College - MD | 99% | 7:1 | 81% | 1200-1440 | 28-32 | |
| Soka University of America | 98% | 8:1 | 43% | 1090-1370 | 24-29 | |
| Saint Johns College - NM | 95% | 9:1 | 81% | 1210-1450 | 23-30 | |
| College of the Atlantic | 93% | 10:1 | 71% | 1100-1340 | 26-30 | |
| Sarah Lawrence College | 92% | 10:1 | 53% | 1160-1380 | 27-32 | |
| Bennington College | 89% | 8:1 | 72% | 1170-1400 | 27-32 | |
| Millsaps College | 84% | 9:1 | 57% | 1030-1270 | 23-29 | |
| Scripps College | 83% | 10:1 | 27% | 1260-1460 | 28-33 | |
| Columbia University | 82% | 6:1 | 7% | 1390-1570 | 32-35 | |
| Claremont McKenna College | 82% | 8:1 | 11% | 1350-1520 | 30-33 | |
| Earlham College | 80% | 9:1 | 65% | 1150-1370 | 25-31 | |
| Woodbury University | 80% | 10:1 | 61% | 830-1050 | 17-23 | |
| Goucher College | 78% | 10:1 | 76% | 1020-1280 | 24-29 | |
| Williams College | 77% | 7:1 | 17% | 1350-1510 | 31-33 | |
| Haverford College | 77% | 9:1 | 25% | 1330-1490 | 31-34 | |
| Bard College | 77% | 10:1 | 35% | 1170-1390 | 26-31 | |
| University of Chicago | 76% | 6:1 | 8% | 1430-1590 | 32-35 | |
| Harvard University | 76% | 7:1 | 5% | 1410-1600 | 32-35 | |
| Northwestern University | 76% | 7:1 | 13% | 1390-1560 | 31-34 | |
| Lawrence University | 76% | 9:1 | 73% | 1140-1410 | 25-31 | |
| Reed College | 76% | 9:1 | 39% | 1290-1480 | 29-33 | |
| Berea College | 76% | 10:1 | 34% | 1020-1226 | 22-27 | |
| Yale University | 75% | 6:1 | 6% | 1410-1600 | 31-35 | |
| Swarthmore College | 75% | 8:1 | 17% | 1360-1540 | 29-34 | |
| Dickinson College | 75% | 9:1 | 48% | 1190-1370 | 28-31 | |
| Hamilton College | 74% | 9:1 | 26% | 1310-1470 | 30-33 | |
| Oberlin College | 74% | 9:1 | 33% | 1260-1450 | 28-32 | |
| Wabash College | 74% | 10:1 | 70% | 1020-1240 | 22-27 | |
| Bryn Mawr College | 73% | 8:1 | 40% | 1200-1440 | 27-32 | |
| Skidmore College | 73% | 8:1 | 37% | 1130-1350 | 25-30 | |
| Agnes Scott College | 73% | 10:1 | 68% | 1090-1240 | 23-27 | |
| Davidson College | 73% | 10:1 | 22% | 1230-1440 | 28-32 | |
| Denison University | 73% | 10:1 | 51% | 1160-1380 | 26-31 | |
| Princeton University | 72% | 6:1 | 7% | 1400-1600 | 31-35 | |
| Wesleyan University | 72% | 8:1 | 22% | 1290-1480 | 29-33 | |
| Colgate University | 72% | 9:1 | 27% | 1280-1470 | 29-32 | |
| Barnard College | 72% | 10:1 | 24% | 1250-1440 | 28-32 | |
| Beloit College | 72% | 10:1 | 69% | 1100-1370 | 24-30 | |
| Hillsdale College | 72% | 10:1 | 53% | 1210-1420 | 27-31 | |
| Union College | 72% | 10:1 | 41% | 1210-1400 | 28-31 | |
| Duke University | 71% | 7:1 | 11% | 1360-1550 | 31-34 | |
| Amherst College | 71% | 8:1 | 12% | 1350-1550 | 30-34 | |
| Washington and Lee College | 71% | 8:1 | 19% | 1320-1460 | 30-33 | |
| Carleton College | 71% | 9:1 | 23% | 1320-1510 | 30-33 | |
| Macalester College | 71% | 10:1 | 36% | 1270-1465 | 28-32 | |
| Mount Holyoke College | 71% | 10:1 | 55% | 1220-1450 | 28-31 | |
| Pitzer College | 71% | 10:1 | 13% | 1240-1430 | Not Reported | |
| Wheaton College - MA | 71% | 10:1 | 70% | 1120-1350 | 25-28 | |
| Stanford University | 70% | 4:1 | 5% | 1380-1570 | 31-34 | |
| Emory University (Emory) | 70% | 7:1 | 27% | 1280-1460 | 29-32 | |
| Emory University (Oxford) | 70% | 7:1 | 39% | 1150-1380 | 26-30 | |
| Bowdoin College | 70% | 9:1 | 15% | 1370-1520 | 31-34 | |
| Colby College | 70% | 10:1 | 28% | 1230-1430 | 28-32 | |
| Kenyon College | 70% | 10:1 | 25% | 1230-1420 | 28-32 | |
| University of Rochester | 70% | 10:1 | 36% | 1240-1460 | 29-33 | |
Tags: Agnes Scott, Amherst, Bard, Barnard, Beloit, Bennington, Berea, Bowdoin, Bryn Mawr, Carleton, Claremont McKenna, Colby, Colgate, College Lists, College of the Atlantic, Columbia, Davidson, Denison, Dickinson, Duke, Earlham, Emory, Goucher, Hamilton, Harvard, Haverford, Hillsdale, Kenyon, Lawrence, Macalester, Millsaps, Mount Holyoke, Northwestern, Oberlin, Oxford at Emory, Pitzer, Princeton, Reed, Saint John's - MD, Saint John's - NM, Sarah Lawrence, Scripps, Skidmore, Soka, Stanford, Swarthmore, Union College, University of Chicago, University of Rochester, Wabash, Washington and Lee, Wesleyan, Wheaton - MA, Williams, Woodbury, Yale