26 July 2023
Great Colleges for International Relations Majors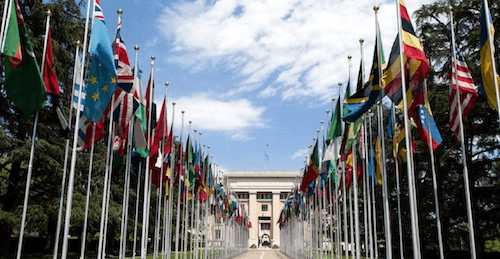 Interested in pursuing an interdisciplinary field that delves into how individual states and global interactions impact diplomacy and conflict? If so, consider majoring in International Relations (IR)!
In International Relations, students can evaluate how global, regional, and domestic factors influence relations between state actors. Given the vast variety of tracks within international relations, such as an emphasis on international economics, human rights, or global health, international relations also serves as a perfect interdisciplinary supplement to other fields of study. Studying International Relations prepares students for a wide variety of careers, ranging from law to politics, and the major continues to expand as the world becomes increasingly globalized.
To help you evaluate your options, we've curated a list of great undergraduate International Relations programs in the United States based on Foreign Policy magazine's Best International Relations Schools in the World. Our list covers a mix of private and public universities and liberal arts colleges, and includes admission rates, test profiles, program highlights and links for more information.
Click on Continue Reading for the list
---
Author
| | |
| --- | --- |
| | Michelle Jin is a graduate from The Harker School's Class of 2023 and will be attending Stanford University this fall. |
---
Great Colleges for International Relations Majors
College Kickstart LLC
Institution/Program
State
Admit %
Mid 50 Testing
Features
Notes
American University
School of International Service
DC
41
1290-1420
29-32

Conduct facullty-mentored research at 10+ SIS research institutes
Become an Olson Scholar or Said Peace Scholar

Brown University
Watson Institute of International and Public Affairs
RI
5
1500-1560
34-36

Pursue internships with Brown Semester Internship Programs, the Applied Policy Research Internship, and 10+ funded research opportunities
Attend Brown in Washington to intern with public and nonprofit sector agencies in D.C.
Conduct faculty-mentored research at 15+ Watson Institute research centers
Tap into leadership via the IR Student Advisory Council

Carleton College
Political Science & International Relations
MN
17
1430-1540
32-35

Participate in educational and experiential Off-Campus Programs in Eastern Europe, Southeast Asia, and D.C.
Write and edit for PoliS (Carleton Journal of Political Science)

Claremont McKenna College
International Relations
CA
10
1450-1540
33-35

Conduct faculty-mentored research at 11+ CMC research institutes
Seek an internship and interact with political figures via the Washington Program
Partake in enlightening conversations with professionals and scholars at the Athenaeum

College of William and Mary
International Relations
VA
32
1380-1520
32-34

Conduct faculty-mentored research in 12+ international relations labs, including the National Security Archive and International Justice Lab
Pursue internships and experiential learning through the W&M D.C. Center

Columbia University
Political Science -- International Relations
NY
4
1500-1560
34-35

Pursue sponsored research supported by the Institute for Social and Economic Research and Policy (ISERP)
Attend undergraduate seminars and research conferences in NYC

Dartmouth College
Government -- International Relations
NH
4
1480-1560
33-35

Partake in global experiential learning via Paganucci Fellows Program
Find student research and internship opportunities at the Leslie Center (including an annual internship offered by Dartmouth with Reuters)
Gain professional experiences with the London and Washington D.C. Programs

George Washington University
Elliott School of International Affairs
DC
50
1320-1460
30-34

Pursue independent research via Dean's Scholars Program
Tackle faculty-mentored or paid research at 25+ GWU research centers

Georgetown University
School of Foreign Service
DC
13
1410-1540
32-35

Tackle research at Centennial Labs and over 20+ research institutes
Pursue fellowships via the ISD Fellowship in Diplomacy and Mortara Undergraduate Research Fellows
Attend unique research forums and conferences via The Walsh Exchange and Carroll Round

Harvard University
Government -- International Relations
MA
3
1480-1580
33-36

Pursue funded internships (only open to Harvard Government concentrators) at the Center for Global Studies in University of Victoria, British Columbia, Canada, and the ZOiS Internship in Berlin, Germany
Tackle faculty-mentored research (updated projects available on website every season)
Attend cutting-edge conferences at The Institute of Politics (IOP) and the Government Department

Johns Hopkins University
International Studies
MD
6
1520-1560
34-35

Pursue independent research via the Woodrow Wilson Fellowship
Become a student leader via the International Studies Leadership Council
Attend annual IR events at the Aronson Center
Publish IR articles in JHU's Foreign Affairs Review (FAR)

Macalester College
International Studies
MN
28
1350-1490
30-34

Discuss global issues at the annual International Roundtable
Pursue research and professional development initiatives at the Kofi Annan Institute for Global Citizenship

Middlebury College
International and Global Studies
VT
13
1420-1520
33-35

Hone language skills through studying abroad at Middlebury Schools Abroad, located in 37 cities in 17 countries
Partake in 10+ seminars, scholar cohorts, and workshops offered to undergraduates, including the Rohatyn Global Fellows Program and California Climate Semester

Occidental College
Diplomacy and World Affairs
CA
39
1380-1490
31-34

Partake in Oxy's flagship Kahane United Nations Program, where students move to NYC and pursue an internship at UN agencies and government offices
Conduct funded global research at the John Parke Young Initiative on the Global Political Economy

Ohio State University - Columbus
International Relations and Diplomacy
OH
57
1260-1420
26-32

Conduct faculty-mentored research at the Mershon Center for International Security Studies
Pursue IR-related service opportunities at 20+ Ohio-based organizations
Participate and engage with student researchers at the Denman Research Forum

Pomona College
International Relations
CA
7
1480-1540
32-35

Experience living-learning foreign language communities and the International Relations Colloquium at the Oldenborg Center
Conduct summer research via the Summer Undergraduate Research Program (SURP)

Princeton University
School of Public and International Affairs (SPIA)
NJ
4
1470-1560
33-35

Tackle public policy issues practically via Policy Task Forces and Policy Research Seminars
Pursue a summer internship as a Liman Fellow
Conduct faculty-mentored research at 15+ SPIA research centers

Stanford University
International Relations
CA
4
1500-1570
33-35

Conduct faculty-mentored research with the Summer Research College
Seek IR career opportunities at International Service Opportunities Fair
Pursue internships and fellowships via Stanford in Washington (SIW), Stanford in Government (SIG) Fellowships, and more

Swarthmore College
Global Studies
PA
7
1460-1540
32-35

Pursue independent, interdisciplinary projects through the Global Studies Initiative
Tackle a ""Special Major in Global Studies"" for increased mentorship and research opportunities

Tufts University
International Relations
MA
10
1450-1530
33-35

Publish IR articles in Hemispheres or the Tufts Observer
Receive internship and travel funding opportunities, such as the IR Internship Award
Pursue faculty-mentored research via the IR Undergraduate Research Fellows Program and the Anne E. Borghesani Memorial Prize

University of California - Berkeley
Global Studies
CA
11
Test-Free

Conduct research in 15+ institutional research centers relevant to international affairs

University of California - Los Angeles
Global Studies
CA
9
Test-Free

Gain research and field experiences via Quarter in Washington Program
Conduct research at 20+ International Insitute research centers, such as the Burkle Center for International Relations

University of Chicago
Global Studies
IL
6
1510-1560
33-35

Conduct research at 30+ instiutional research centers
Indulge in UChicago's recently revamped Global Studies curriculum

University of Michigan - Ann Arbor
International Studies
MI
18
1350-1530
31-34

Pursue 5+ funding opportunities for IR-related independent research and internships, including the International Human Rights Fellowship and the Arctic Internship Fellowship
Publish in the Michigan Journal of International Affairs and participate in the Michigan Foreign Policy Council (an undergraduate think tank)
Conduct research at 20+ institutional research facilities

University of North Carolina - Chapel Hill
Global Studies
NC
17
1350-1510
28-33

Conduct research at 6+ associated area studies research centers
Engage in leadership opportunities via Global Studies Student Association (GSSA)
Apply for ample research and internship funding opportunities—such as the Global Studies Summer Experience Awards

University of Notre Dame
Keough School of Global Affairs
IN
12
1450-1530
33-35

Pursue faculty-mentored research with the Kellogg International Scholars Program, Kellogg Developing Researchers Program, and/or 9+ institutional research centers
Conduct international internships with grants offered from the Nanovic Institute for European Studies, Pulte Institute for Global Development, and more
Attend top-tier speaker events offered by the Keough School

University of Pennsylvania
International Relations
PA
6
1480-1570
33-35

Pursue a fellowship via Penn Washington Semester Program
Become a student leader through Penn IRUSA

University of Southern California
International Relations
CA
10
1450-1550
32-35

Gain field experiences via the Washington D.C. Semester Program
Conduct on-campus research at the Center for International Studies and the Center for Political Future
Pursue faculty-mentored research with SOAR, SURF, and the Renaissance Scholars Program

University of Virginia
Department of Politics—International Relations
VA
16
1400-1510
32-35

Participate in 4+ IR speaker series, including the Frontiers in Global Development Seminar and Lansing-Lee/Bankard Seminar
Pursue the Distinguished Majors Program—an advanced program with in-depth research opportunities relevant to the major

Wellesley College
International Relations
MA
14
1420-1540
33-35

Cross-register for political science courses at MIT
Intern with government agencies via Wellesley in Washington Summer Internship Program

Yale University
Global Affairs
CT
4
1470-1560
33-35

Pursue independent projects and internships via the Leitner International Research and Internship Fellowship and the Les Aspin '60 International Public Service Fellowship
Interact with offerings from the Johnson Center, International Leadership Center, Kerry Initiative, and Leitner Program on Effective Democratic Governance—all of which have their own offered fellowships, conferences, and events
Tags: American, Brown, Carleton, Claremont McKenna, Class of 2023, College Lists, Columbia, Dartmouth, George Washington, Georgetown, Harvard, Johns Hopkins, Macalester, Michigan, Middlebury, Notre Dame, Occidental, Ohio State, Pomona, Princeton, Stanford, Swarthmore, Tufts, UC Berkeley, UCLA, UNC Chapel Hill, University of Chicago, University of Pennsylvania, University of Virginia, USC, Wellesley, William & Mary, Yale