15 September 2015
New College Kickstart 2015 Update Now Available!
Tracking Application Requirements with Ease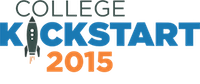 An update to College Kickstart 2015 has just been posted!
In addition to Class of 2019 admission rate updates to our database, this release features an enhanced Plan Highlights page to help Plus Edition subscribers get organized and track admission requirements for the schools on their list. If you're a Plus Edition subscriber, you'll now be able to see application requirements at a glance for all of the schools on your list, including testing, recommendations, interviews and most importantly, essay counts!
Click on Continue Reading for the details.
---
What's New
New "Requirements View" for Plus Edition subscribers.

We know how much of a hassle it can be gathering requirements for each of the schools on your list. What test scores are required? How many recommendations are needed? And how many (extra) essays have to be completed? To help you get organized quickly, we've added a new "Requirements View" to the Plan Highlights page. You'll be able to review requirements for testing, recommendations, interviews and essay counts, along with links back to each school's website for details.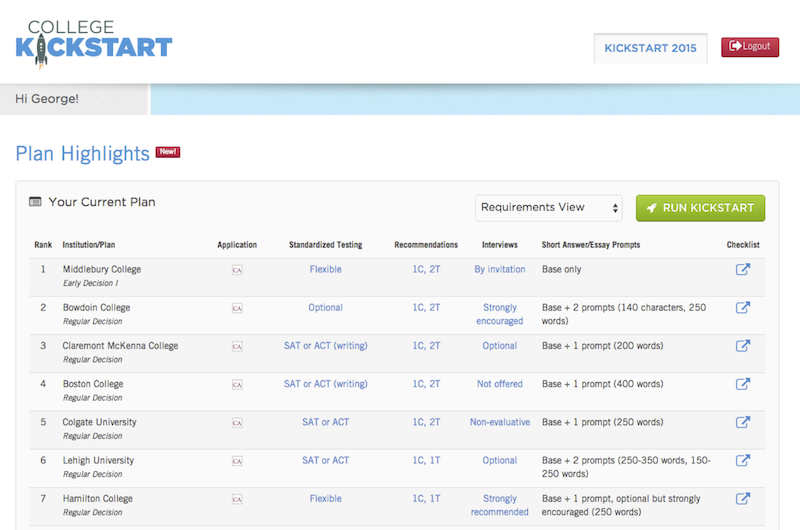 New schools added.

This release adds the Uniersity of Hawaii at Manoa, as well as some midwest favorites: Ohio Northern University, Ohio University, University of Cincinnati and the University of Kentucky.
Updated Class of 2019 admissions data.

We're constantly on the hunt for the latest admissions data, especially for changes that can impact how a college list is constructed or early admission strategy. For example, admission rate changes that would turn a safety into a target or a target into a reach. In these situations, we'll selectively overlay Class of 2019 admission rates with Class of 2018 academic profile data until the complete Class of 2019 information is available. In this release, we've introduced Class of 2019 admissions data for the following schools: Boston College, Bucknell, Carnegie Mellon, College of William & Mary, Colorado College, Cornell University, Davidson, Duke, Franklin & Marshall, Georgetown, Georgia Tech, Hamilton, Middlebury, MIT, Mt. Holyoke, Northeastern, Occidental, Rice, Smith, Stanford, Tufts, UC Berkeley, UC Davis, UC Irvine, UC Riverside, UC San Diego, UC Santa Barbara, UC Santa Cruz, University of Illinois at Urbana-Champaign, UMass Amherst, University of Michigan, University of Notre Dame, Vanderbilt, Vassar, Washington & Lee, Wesleyan University and Williams College. As always, be sure to check the commentary at the bottom of the School Details tab to track where the data is coming from.
Enjoy! To sign into your account, click here. To learn more about College Kickstart, click here.
Tags: Boston College, Bucknell, Carnegie Mellon, College Kickstart, Colorado College, Cornell, Davidson, Duke, Franklin & Marshall, Georgetown, Georgia Tech, Hamilton, Kentucky, Michigan, Middlebury, MIT, Mount Holyoke, Northeastern, Notre Dame, Occidental, Ohio University, Ohio Northern, Rice, Smith, Stanford, Tufts, UC Berkeley, UC Davis, UC Irvine, UC Merced, UC San Diego, UC Santa Barbara, UC Santa Cruz, UCLA, UMass Amherst, University of California, University of Cincinnati, University of Illinois at Urbana-Champaign, Vanderbilt, Vassar, Washington and Lee, Wesleyan, William & Mary, Williams