04 October 2019
The Early Admission Advantage (Part 1 of 3)
PART I: The Fundamentals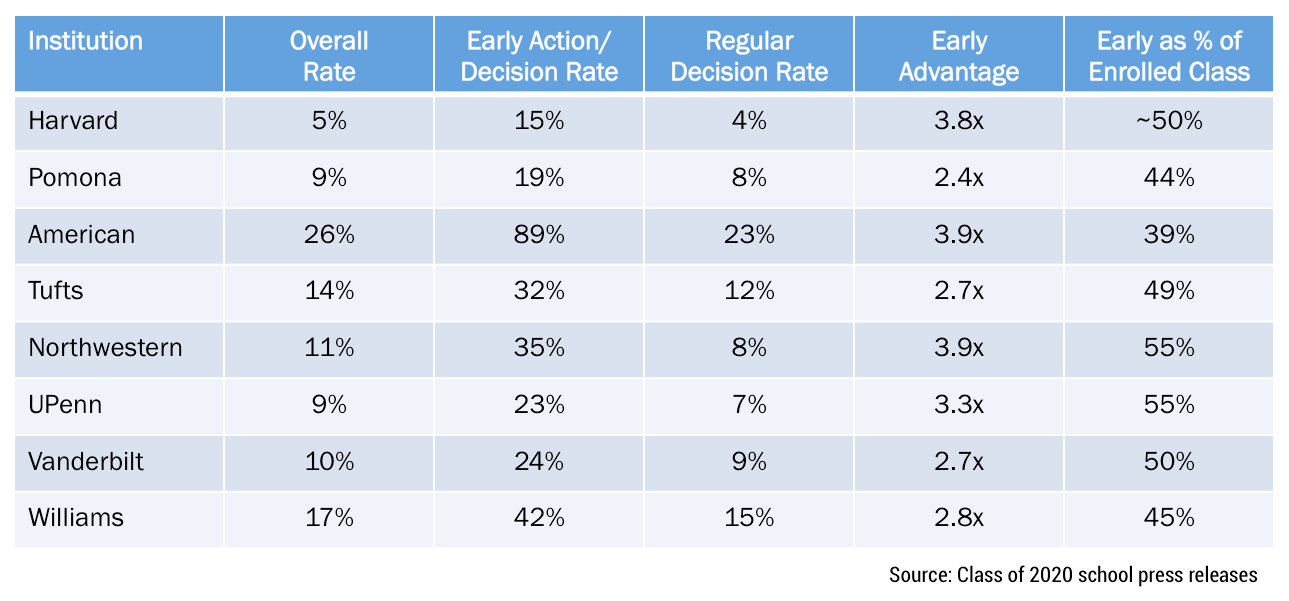 Simply put, early admission should always be considered as part of your college plan.
Why? Because early action and early decision programs can be tremendously useful in helping a competitive candidate enhance admission odds. By submitting your application early, you'll hear back earlier and in most instances improve your chances for admission. Better yet, if you're accepted early, you'll be able to avoid the cost and effort of applying to schools of lower interest on your list.
In this three part series, we'll explore the fundamentals, when/how to take advantage of them, and where early admission is offered. Read on for Part I.
---
Part I
In this blog post we'll cover the fundamentals of early admission, including:
An overview of the various forms of early admission offered
Why schools offer these programs
Why these programs are important to you
---
Early Admission Variants
Early admission programs all share the same premise: you apply early, you get a decision early. What varies is whether the decision is binding, the extent to which you can apply to other early admission programs simultaneously, and timing.
There are three types of early admission programs:
Early Decision (ED)

. Early decision programs are binding, meaning that if you are accepted you are obligated to attend the institution and must withdraw your other applications immediately. You can only apply to one Early Decision school at a time and will be required to sign a contract certifying you've done so. Some schools have just one early decision deadline, with applications typically due in early November and decisions sent by the end of December. This is called "ED I." Many schools add a second early decision deadline, usually 1/1 or 1/15, with notification by mid-late February ("ED II"). Like ED I, ED II is binding if you are accepted and you will be required to withdraw other outstanding applications. Generally speaking, there will be one of three outcomes: admitted, denied or deferred. If you are deferred, your application will be reevaluated with the regular decision applicants and you'll hear back a second time in the April timeframe. Schools with ED I programs include Brown and Northwestern. Schools with ED I and ED II programs include Claremont McKenna, Wesleyan University and NYU.
Early Action (EA)

. Early action programs are particularly intriguing as they are non-binding, meaning that you are not obligated to attend if you are admitted. EA applications are typically due in early November (usually 11/1 or 11/15), with decisions in mid to late December. Decisions typically have three outcomes: admitted, denied or deferred. If you are deferred, your application will be evaluated with the rest of the regular decision applicants and you'll hear back a second time in the April timeframe. Schools with EA programs include University of Michigan, Northeastern University and MIT.
Restrictive Early Action (REA)

. Restrictive early action programs are also non-binding but place constraints on how you are allowed to apply to other schools. REA programs each have their own quirks. For example:
Harvard, Yale, Princeton and Stanford offer a form of restrictive early action called "Single Choice Early Action" (SCEA). SCEA prohibits you from applying simultaneously to other early action or early decision programs, unless it's rolling admission, an EA program for a public school, or an institution outside the United States.
Georgetown University and Notre Dame prohibit applying to all early decision programs (ED I and ED II) but allow you to apply to any other early action programs.
---
Why Colleges Offer Early Admission
Colleges offer early admission programs for a number of reasons, including:
Evidence of stronger applicant interest

. By making the effort to apply two months early, the applicant is showing a stronger interest in an institution—particularly if they are applying early decision. This helps colleges discern who's really serious about matriculating if accepted.
Reduced competition for prized applicants

. Early admission reduces the need for an institution to compete with others for prized students. With early decision, the student is 100% committed (except for financial hardship). Even early action can give an institution a leg up on its competition, as the admitted student has 3+ months to imagine themselves at that institution before they'll hear from others.
Higher admission yield (and prestige)

. One statistic that colleges track closely is admission yield, which is the percentage of admitted students that actually end up enrolling. The higher the yield, the more in-demand the institution. Highly selective institutions like the U.S. Naval Academy and Harvard have yields in excess of 80%.
What's clear is that colleges are increasingly admitting higher proportions of their students through early admission programs—upwards of 40% of an enrolled class. Simply put, it's their way of controlling yield, locking up prized students and increasing prestige in the process.
---
Why it's Important to Consider Early Admission
So why is this so important? Because under the right circumstances, early admission programs can enhance you prospects for admission and spare you a lot of extra work and cost in the process.
Let's look at a couple of examples from a relatively recent admissions cycle.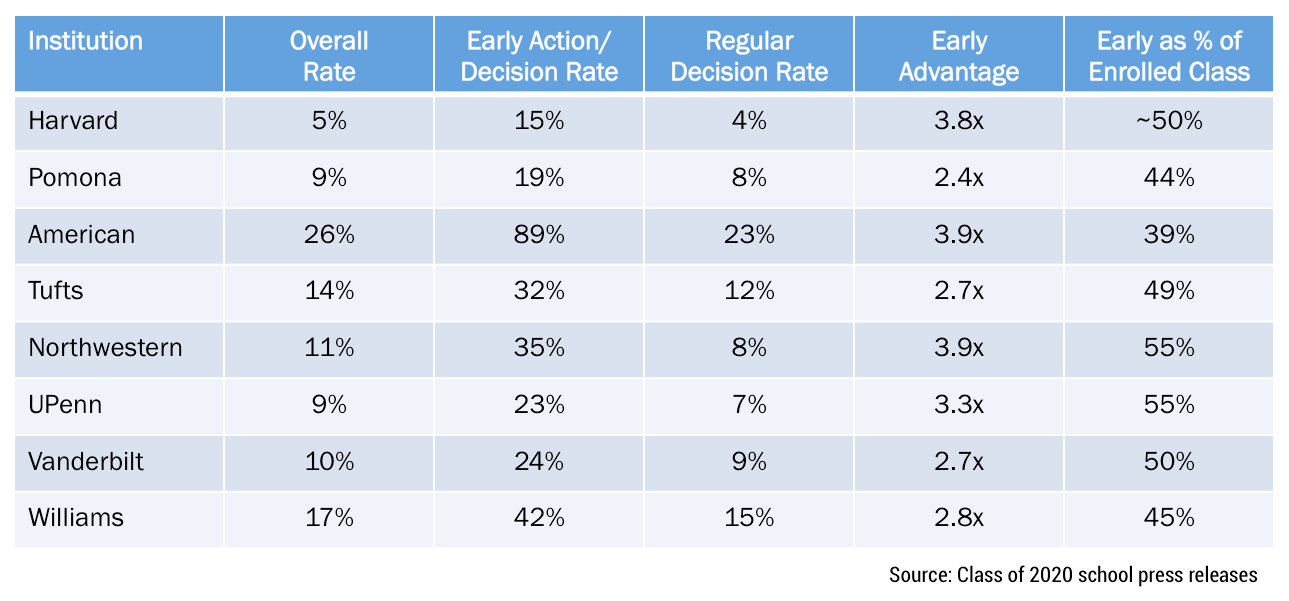 For each school we show the overall admission rate, admit rates for early and regular applicants, the early advantage and the anticipated mix of the enrolled class coming from early admits.
There are two important takeaways:
The admit rates for those applying early are much higher than the admit rates for those applying regular decision

. This is a significant differential, one that can't often be explained away solely by hooked applicants, and one you can't afford to ignore.
By the time a student submits their regular decision application, nearly half the entering class has been filled

. With early admittees accounting for 40%+ of an enrolled class, regular decision applicants get the short end of the stick.
The bottom line is that you absolutely need to consider early admission as part of creating your college plan. When and how to take advantage of it will be the topic for Part II.
Tags: Admission Yield, American, Boston College, Brown, Claremont McKenna, Class of 2024, Early Action, Early Admission, Early Decision, Georgetown, Harvard, MIT, Northeastern, Northwestern, NYU, Pomona, Princeton, Restrictive Early Action, Single Choice Early Action, Stanford, Tufts, University of Pennsylvania, Vanderbilt, Wesleyan, Williams, Yale