28 July 2021
Popular Colleges Offering On-Campus Visits (Class of 2026)
Update #12 (7/28)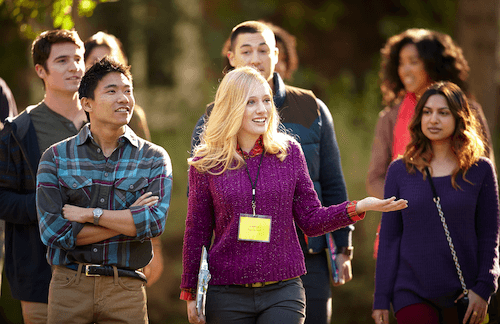 Wondering if it's possible to tour some campuses over the summer? Then check out our list of top colleges offering on-campus visits.
We've taken the top 50 national universities and top 50 liberal arts colleges from the latest U.S. News rankings and identified those currently open for on-campus visits. With vaccinations in full force and cases on the decline, many have resumed in-person campus tours.
Unsurprisingly, most of the institutions open for visits have safe practices in place, so make sure you've satisfied the requirements prior to visiting. Also take note that most tours are now limited to just a few families per tour so it's best to sign up as early as possible. For your convenience, we've included a links to schedule your tour/information session directly.
College Kickstart subscribers: there are now over 500 schools in our coverage universe currently open for prospective student visits and they are now visible in the Summary View, along with links to schedule your visit.
Bookmark this page, as we'll be updating it frequently over the next several weeks as the colleges update their summer visit plans.
Click Continue Reading for the list.
---
U.S. News Top 50 National Universities and Liberal Arts Colleges Currently Offering On-Campus Visits (Class of 2026)
College Kickstart LLC
| Institution | State | Category | On-Campus Visit Available? | Link |
| --- | --- | --- | --- | --- |
| Amherst College | MA | LAC | | |
| Barnard College | NY | LAC | | |
| Bates College | ME | LAC | | |
| Berea College | KY | LAC | | |
| Boston College | MA | NAT | | |
| Boston University | MA | NAT | | |
| Bowdoin College | ME | LAC | | |
| Brandeis University | MA | NAT | | |
| Brown University | RI | NAT | - | |
| Bryn Mawr College | PA | LAC | | |
| Bucknell University | PA | LAC | | |
| California Institute of Technology | CA | NAT | - | |
| Carleton College | MN | LAC | | |
| Carnegie Mellon University | PA | NAT | - | |
| Case Western Reserve University | OH | NAT | | |
| Claremont McKenna College | CA | LAC | | |
| Colby College | ME | LAC | | |
| Colgate University | NY | LAC | | |
| College of the Holy Cross | MA | LAC | | |
| College of William and Mary | VA | NAT | | |
| Colorado College | CO | LAC | | |
| Columbia University | NY | NAT | - | |
| Cornell University | NY | NAT | - | |
| Dartmouth College | NH | NAT | - | |
| Davidson College | NC | LAC | | |
| Denison University | OH | LAC | | |
| DePauw University | IN | LAC | | |
| Dickinson College | PA | LAC | | |
| Duke University | NC | NAT | - | |
| Emory University (Emory) | GA | NAT | - | |
| Franklin and Marshall | PA | LAC | | |
| Georgetown University | DC | NAT | | |
| Georgia Institute of Technology | GA | NAT | | |
| Grinnell College | IA | LAC | | |
| Hamilton College | NY | LAC | | |
| Harvard University | MA | NAT | - | |
| Harvey Mudd College | CA | LAC | | |
| Haverford College | PA | LAC | | |
| Johns Hopkins University | MD | NAT | | |
| Kenyon College | OH | LAC | | |
| Lafayette College | PA | LAC | | |
| Lehigh University | PA | NAT | | |
| Macalester College | MN | LAC | | |
| Middlebury College | VT | LAC | | |
| MIT | MA | NAT | - | |
| Mount Holyoke College | MA | LAC | | |
| New York University | NY | NAT | - | |
| Northeastern University | MA | NAT | | |
| Northwestern University | IL | NAT | | |
| Oberlin College | OH | LAC | | |
| Occidental College | CA | LAC | | |
| Pepperdine University | CA | NAT | | |
| Pitzer College | CA | LAC | | |
| Pomona College | CA | LAC | | |
| Princeton University | NJ | NAT | - | |
| Rice University | TX | NAT | | |
| Rochester Institute of Technology | NY | LAC | | |
| Scripps College | CA | LAC | | |
| Sewanee: The University of the South | TN | LAC | | |
| Skidmore College | NY | LAC | | |
| Smith College | MA | LAC | | |
| Soka University of America | CA | LAC | - | |
| Stanford University | CA | NAT | - | |
| Swarthmore College | PA | LAC | - | |
| Trinity College | CT | LAC | | |
| Tufts University | MA | NAT | | |
| Tulane University | LA | NAT | | |
| Union College | NY | LAC | | |
| United States Air Force Academy | CO | LAC | - | |
| United States Military Academy | NY | LAC | | |
| United States Naval Academy | MD | LAC | - | |
| University of California - Berkeley | CA | NAT | | |
| University of California - Davis | CA | NAT | - | |
| University of California - Irvine | CA | NAT | - | |
| University of California - Los Angeles | CA | NAT | - | |
| University of California - San Diego | CA | NAT | | |
| University of California - Santa Barbara | CA | NAT | | |
| University of Chicago | IL | NAT | | |
| University of Florida | FL | NAT | | |
| University of Georgia | GA | NAT | | |
| University of Illinois - Urbana Champaign | IL | NAT | - | |
| University of Miami | FL | NAT | | |
| University of Michigan - Ann Arbor | MI | NAT | | |
| University of North Carolina - Chapel Hill | NC | NAT | - | |
| University of Notre Dame | IN | NAT | | |
| University of Pennsylvania | PA | NAT | - | |
| University of Richmond | VA | LAC | | |
| University of Rochester | NY | NAT | | |
| University of Southern California | CA | NAT | | |
| University of Texas - Austin | TX | NAT | | |
| University of Virginia | VA | NAT | | |
| University of Wisconsin - Madison | WI | NAT | | |
| Vanderbilt University | TN | NAT | - | |
| Vassar College | NY | LAC | | |
| Wake Forest University | NC | NAT | | |
| Washington and Lee University | VA | LAC | | |
| Washington University in St. Louis | MO | NAT | - | |
| Wellesley College | MA | LAC | - | |
| Wesleyan University | CT | LAC | | |
| Whitman College | WA | LAC | | |
| Williams College | MA | LAC | | |
| Yale University | CT | NAT | - | |
Tags: Bates, Berea, Boston College, Boston University, Bowdoin, Brandeis, Bryn Mawr, Bucknell, Carleton, Case Western, Claremont McKenna, Colby, Colgate, Davidson, Denison, DePauw, Dickinson, Franklin & Marshall, Georgia Tech, Grinnell, Hamilton, Haverford, Holy Corss, Johns Hopkins, Kenyon, Lafayette, Lehigh, Macalester, Michigan, Middlebury, Mount Holyoke, Oberlin, Occidental, Pepperdine, Pitzer, Pomona, Rochester Institute of Technology, Scripps, Sewanee, Skidmore, Smith, Trinity College, Tulane, Union College, University of Chicago, University of Florida, University of Georgia, University of Miami, University of Richmond, University of Rochester, University of Virginia, UT Austin, Vassar, Wake Forest, Washington and Lee, Washington University in St Louis, Wesleyan University, West Point, Whitman, William & Mary, Williams, Wisconsin