18 June 2022
Top Game Design Programs for Undergraduates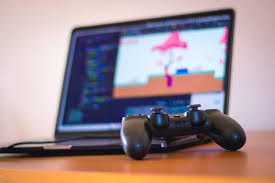 Turn your gaming passions into a career! As the billion-dollar gaming industry rapidly expands into the world of modern entertainment and technology, more universities are beginning to offer game design programs.
Games are not only popular sources of entertainment and leisure, but also serious tools for rehabilitation and education. Now, due to a fusion of advancing technology, burgeoning esports scene, and more, demand for games is exceptionally high. Contrary to longstanding opinions, games are not merely "brain-damaging" activities, but valid academic pathways with high career potential. So go for it!
With help from sources Animation Career Review, GameDesigning and Princeton Review, we've curated a list of great game design programs for undergraduates in the United States. The list includes relevant information about the academic profile, resources offered, and degree programs offered from each institution.
Click on Continue Reading to see our list of top undergraduate game design programs.
---
Top Game Design Programs for Undergraduates
The following factors are included to help you gain better insight into each program:
Academic Profiles inform you about the general academic standing of the school, which includes the admit rate and standardized test score statistics for the mid-50th percentile.
Degrees Offered: Academic institutions offer a variety of degree types, including majors, minors, specializations, concentration, tracks, and emphases. The listed institutions all offer at least one games-related major, but may also offer other types of degrees as well. When considering each degree program, it would be helpful to understand whether the curriculum would have a greater focus on the artistic or technical side of games. In some cases, the major's direction is clear, like Game Arts or Game Programming. However, for degrees with ambiguous titles, we recommend taking a look at the college each major is offered in. For example, a degree offered in an engineering school would have greater emphasis on the developmental aspect of games while a degree from an arts and design school would highlight the arts more.
Resources Offered: Top programs also offer a multitude of resources for undergraduate students to flourish.

Industry opportunities: Industry opportunities are important for advancement, as it prepares students for their future careers and extends the experience that employers look for. Examples include co-op programs, professional collaborations and partnerships, studio tours, and more.

Showcase events: Showcase events are excellent milestones for students in creative, project-based pathways like game education. These events are great ways for students to receive helpful feedback, learn more about games, and gain exposure to industry professionals.

Incubators: Some schools also offer incubators, which provide financial resources and mentorship for students to kickstart their games.

Research Centers and Opportunities: For students who love research, many schools also house research centers and labs for games. These programs and centers use games to create a strong impact in fields even beyond entertainment, from medicine to psychology.

Facilities and Tools: Games also frequently depend on advanced instruments for development and play. Top institutions offer state-of-the-art facilities and tools for game education majors to use. This criteria is primarily assessed on whether there are facilities and resources constructed specifically for games.
Notes are included for extra information and additional resources that distinguish the institution.
---
Great Game Design Programs for Undergraduates
College Kickstart LLC
Institution/Major(s)
State
Admit Rate (%)
Mid 50 SAT/ACT
Resources
Notes
Academy of Art University

Game Development
Game Programming

CA
100
School of Game Development has a strong insider network that bring unique opportunities for students to pursue game development internships, mentorship opportunities, and lectures from professionals. Partnerships include Blizzard Entertainment and Riot Games.
Bradley University

Computer Information Systems - Game Technology
Computer Science - Game Technology
Game Art
Game Design

IL
76
1070-1270
24-30
A notable component of the curriculum at Bradley is that as students progress, the size of the project development teams increase as well.
Champlain College

Game Design
Game Art
Game Business & Publishing
Game Production Management
Game Programming
Game Sound Design

VT
85
1140-1290
24-30
Collaborative learning experience where students across all majors work together on projects (""Six Majors. One Experience"")
Cleveland Institute of Art
OH
66
1040-1270
19-26
Focus on working on real-world projects with external partners or clients, or in the public sphere prior to graduation.
Columbia College Chicago
IL
90
960-1200
20-28
Many external events for game students in the area, including Game Developers Conference, Chicago Toy and Game Fair (requirement for some students), Industry Night and Manifest
Depaul University

Game Design
Game Programming

IL
69
1080-1290
21-27
Opportunities to learn about Japanese entertainment and animation in Japan.
DigiPen Institute of Technology

Game Design
CS/Game Design
CS in Real-Time Interactive Simulation
CS/Digital Audio
Digital Art & Animation

WA
46
1180-1390
22-23
Institution focuses exclusively on interactive media and video game development.
Drexel University

Game Design & Production (BS)
eSport Business (BSBA)

PA
83
1210-1400
26-32
Focus on experiential learning. Students not only frequently work in team-based projects, but also complete a six-month co-op program.
Full Sail University

Game Art
Game Business and eSports
Game Design
Game Development
Simulation and Visualization

FL
100
Incorporates real-world experience into the learning journey, through relationships with entertainment and media industry. Degrees offered at an accelerated pace, allowing students with the option to graduate earlier.
High Point University
NC
75
1090-1260
22-28
Student projects presented at external conferences; opportunities to visit game studios as a communication fellow
Indiana University
IN
85
1170-1370
26-32
Offers opportunities for students to dive into different focal areas, from art to sound to programming. At IU Bloomington's Media School, students will undergo a three-semester workshop to publish an original game. Offers internship programs abroad
Kennesaw State University

Computer Game Design and Development

GA
82
1060-1240
20-26
1. Strong gaming community, with many conference opportunities, game-related resources and other events. Students are required to select an upper-level concentrations in: media-production, distributed-mobile, education-serious, planning-management, and simulation-informatics
Laguna College of Art & Design
CA
83
Partners with USCGames, Breda University of Applied Sciences and Norco Collegence; students have opportunities to feature in the Independent Game Festival
Marist College
NY
55
1160-1330
25-30
Games and Emerging Media majors have the opportunity to focus on a Technical Development and Programming Track or a Design, Writing, and Culture Track. Students are also directly involved in Marist College's Cloud Computing initiatives and partnership with IBM.
Maryland Institute of College of Art
MA
86
Students can work with programming students in the Hybrid Games Studio, a collaborative studio between the MICA Game Lab and Johns Hopkins Whiting School of Engineering's Computer Scince department. Students work in a team-based, open lab model.
Miami University - Oxford
OH
89
1180-1350
24-30
Interdisciplinary collaboration between the Emerging Technology in Business + Design program and the Art and Computer Science departments. Opportunity to participate in Game Developers Conference and study abroad in London
Michigan State University

Games and Interactive Media

MI
83
1110-1310
23-29
Along with its rich curriculum, MSU also offers the West Coast Field Experience Trip, giving students opportunities to gain exposure to professional environments and network.
New York University
NY
13
1390-1510
31-34
NYU has a strong gaming community and encourages participation in lecture series, showcases, and Playtest Thursdays, where students can meet with a diverse group of gaming enthusiasts and experts to share prototypes.
Northeastern University

Computer Science/Game Development (BS)
Game Art and Animation (BFA) (Concentration)
Game Design (BFA)

MA
7
1440-1530
33-35
Focus on portfolio development, with emphasis on co-op opporutnities and multidisciplinary learning, research and collaboration
Quinnipiac University

Game Design and Development

CT
82
1080-1250
22-27
Ability to concentrate in Programming, Technology, Design Process, Art, Game Studies, Business, Writing, and Audio
Rensselaer Polytechnic Institute

Games and Simulation Arts and Sciences (BS)
Electronic Media
Arts
and communication (BS)

NY
57
1310-1460
29-34
RPI is a designated NYSTAR Center of Excellence in Digital Game Development
Rochester Institute of Technology

Game Design and Development

NY
71
1270-1450
29-33
RIT accepts co-op credit and also offers an accelerated dual-degree program (BS/MS course sequence)
Savannah College of Art and Design

Interactive Design and Game Development (BA) or (BFA)

GA
78
1050-1240
21-27
SCAD GamingFest is an enriching event for students to interact with industry insiders, network with professionals, and learn from speaker panels and workshops. Most student showcase opportunities occur in external events.
Shawnee State University

Game & Simulation Arts
Game Programming

OH
100
11 specialized lab facilities for game development.
University of California - Irvine

Game Design and Interactive Media (BS)

CA
29
1240-1410
25-32
Major emphasizes design and development; students can start building games from the start instead of waiting until junior year
University of California - Santa Cruz

Art and Design: Games and Playable Media (B.A.)
Computer Science: Computer Game Design (B.S.)

CA
59
1160-1350
23-30
Prioritizes research in the games field, as the institution hosts many opportunities and resources for undergraduate research
University of Denver

Game Development (BA) or (BS)
Emergent Digital Practices (BFA)

CO
64
1220-1370
27-31
BA in game development requires a double major, with the other major being either digital media studies, electronic media art design, or studio art. BS in game development requires a mior in mathematics and a second art-related minor
University of Southern California

Interactive Entertainment (BA)
Computer Science (Games) (BS)
Game Art (BFA)

CA
12
1330-1520
30-34
USC has its own publishing label for games.
University of Utah
UT
84
1190-1380
22-30
Utah's Entertainment Arts and Engineering program uniquely offers ample research opportunities as a leading research university and teaches its students to apply games to interactive entertainment and beyond.
Worcester Polytechnic Institute

Interactive Media & Game Development (BS) or (BA)

MA
60
1320-1450
29-33
One of the earliest gaming programs in the nation; those pursuing a BA degree can also concentrate in animation, 3-D sculpting, technical artistry, design and writing.
Tags: Academy of Art University, Bradley, Champlain, Cleveland Institute of Art, Columbia College of Chicago, DePaul, Digipen, Drexel, Full Sail, High Point, Indiana, Kennesaw State, Laguna College of Art & Design, Marist, Maryland Institute of College of Art, Miami University - Oxford, Michigan State, Northeastern, NYU, Quinnipiac, Rochester Institute of Technology, RPI, Savannah College of Art and Design, Shawnee State, UC Irvine, UC Santa Cruz, University of Denver, USC, WPI