09 September 2019
U.S. News & World Report Posts 2020 College Rankings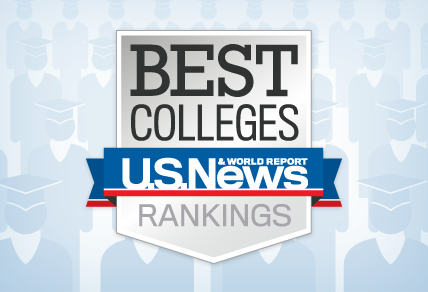 U.S. News & World Report released their 2020 college rankings earlier today. Over 1,400 schools were covered nationwide and evaluated on multiple measures of academic excellence and outcomes to produce the final rankings.
Approximately 13 percent of institutions were reclassified to changes in the underlying Carnegie classification system in 2018.
Princeton retains sole possession of the top spot for National Universities, and Williams College tops the list of Liberal Arts Colleges.
Click on Continue Reading to see the rankings changes.
---
U.S. News and World Report Ranking Changes (2020 vs 2019)
College Kickstart LLC
| Institution | Rank (2020) | Rank (2019) | Change |
| --- | --- | --- | --- |
| Princeton | 1 | 1 | |
| Harvard | 2 | 2 | |
| Columbia | 3 | 3 | |
| MIT | 3 | 3 | |
| Yale | 3 | 3 | |
| Stanford | 6 | 7 | |
| University of Chicago | 6 | 3 | |
| University of Pennsylvania | 6 | 8 | |
| Northwestern | 9 | 10 | |
| Duke | 10 | 8 | |
| Johns Hopkins | 10 | 10 | |
| Caltech | 12 | 12 | |
| Dartmouth | 12 | 12 | |
| Brown | 14 | 14 | |
| Notre Dame | 15 | 18 | |
| Vanderbilt | 15 | 14 | |
| Cornell | 17 | 16 | |
| Rice | 17 | 16 | |
| Washington University in St. Louis | 19 | 19 | |
| UCLA | 20 | 19 | |
| Emory | 21 | 21 | |
| UC Berkeley | 22 | 22 | |
| USC | 22 | 22 | |
| Georgetown | 24 | 22 | |
| Carnegie Mellon | 25 | 25 | |
| University of Michigan | 25 | 27 | |
| Wake Forest | 27 | 27 | |
| University of Virginia | 28 | 25 | |
| Georgia Tech | 29 | 35 | |
| NYU | 29 | 30 | |
| Tufts | 29 | 27 | |
| UNC Chapel Hill | 29 | 30 | |
| University of Rochester | 29 | 33 | |
| UC Santa Barbara | 34 | 30 | |
| University of Florida | 34 | 35 | |
| UC Irvine | 36 | 33 | |
| Boston College | 37 | 38 | |
| UC San Diego | 37 | 41 | |
| UC Davis | 39 | 38 | |
| Boston University | 40 | 42 | |
| Brandeis | 40 | 35 | |
| Case Western | 40 | 42 | |
| William & Mary | 40 | 38 | |
| Northeastern University | 40 | 44 | |
| Tulane | 40 | 44 | |
| University of Wisconsin - Madison | 46 | 49 | |
| Villanova | 46 | 49 | |
| University of Illinois - Urbana Champaign | 48 | 46 | |
| UT Austin | 48 | 49 | |
| Lehigh | 50 | 53 | |
| Pepperdine | 50 | 46 | |
| RPI | 50 | 49 | |
| University of Georgia | 50 | 46 | |

| Institution | Rank (2020) | Rank (2019) | Change |
| --- | --- | --- | --- |
| Williams | 1 | 1 | |
| Amherst | 2 | 2 | |
| Swarthmore | 3 | 3 | |
| Wellesley | 3 | 3 | |
| Pomona | 5 | 5 | |
| Bowdoin | 6 | 5 | |
| Carleton | 7 | 5 | |
| Claremont McKenna | 7 | 9 | |
| Middlebury | 7 | 5 | |
| Washington and Lee | 10 | 11 | |
| Colby | 11 | 18 | |
| Haverford | 11 | 11 | |
| Smith | 11 | 11 | |
| Grinnell | 14 | 11 | |
| Hamilton | 14 | 16 | |
| Vassar | 14 | 11 | |
| Colgate | 17 | 16 | |
| Davidson | 17 | 10 | |
| Naval Academy | 17 | 22 | |
| Wesleyan | 17 | 18 | |
| Bates | 21 | 22 | |
| West Point | 21 | 18 | |
| Harvey Mudd | 23 | 18 | |
| University of Richmond | 23 | 25 | |
| Barnard | 25 | 25 | |
| Macalester | 25 | 27 | |
| Bryn Mawr | 27 | 27 | |
| Colorado College | 27 | 27 | |
| Holy Cross | 27 | 35 | |
| Kenyon | 27 | 30 | |
| Soka University of America | 27 | 22 | |
| Mount Holyoke | 32 | 30 | |
| Oberlin | 33 | 30 | |
| Scripps | 33 | 30 | |
| Bucknell | 35 | 36 | |
| Pitzer | 35 | 41 | |
| Thomas Aquinas | 35 | 43 | |
| Franklin & Marshall | 38 | 36 | |
| Air Force Academy | 39 | 30 | |
| Lafayette | 39 | 36 | |
| Occidental | 39 | 39 | |
| Skidmore | 39 | 41 | |
| Denison | 43 | 43 | |
| Sewanee | 43 | 49 | |
| Union College | 45 | 39 | |
| Berea College | 46 | | |
| Connecticut College | 46 | 46 | |
| DePauw University | 46 | | |
| Dickinson | 46 | | |
| Furman | 46 | | |
| Trinity College | 46 | 46 | |
| Whitman College | 46 | 43 | |
Tags: Air Force, Amherst, Barnard, Bates, Berea, Boston College, Boston University, Bowdoin, Brandeis, Brown, Bryn Mawr, Bucknell, Caltech, Carleton, Carnegie Mellon, Case Western, Claremont McKenna, Class of 2024, Colby, Colgate, College Lists, College Rankings, Colorado College, Columbia, Connecticut College, Cornell, Dartmouth, Davidson, Denison, DePauw, Dickinson, Duke, Emory, Franklin & Marshall, Furman, Georgetown, Georgia Tech, Grinnell, Hamilton, Harvard, Harvey Mudd, Haverford, Holy Cross, Johns Hopkins, Kenyon, Lafayette, Lehigh, Macalester, Michigan, Middlebury, MIT, Mount Holyoke, Naval Academy, Northeastern, Northwestern, Notre Dame, NYU, Oberlin, Occidental, Penn State, Pepperdine, Pitzer, Pomona, Princeton, Rice, Rochester, RPI, Scripps, Sewanee, Skidmore, Smith, Soka, Stanford, Swarthmore, Trinity, Tufts, Tulane, UC Berkeley, UC Davis, UC Irvine, UC San Diego, UC Santa Barbara, UCLA, UNC Chapel Hill, Union College, University of Chicago, University of Florida, University of Georgia, University of Illinois at Urbana-Champaign, University of Pennsylvania, University of Richmond, University of Virginia, USC, UT Austin, Vanderbilt, Vassar, Villanova, Wake Forest, Washington and Lee, Washington University in St Louis, Wellesley, Wesleyan, West Point, Whitman, William & Mary, Williams, Wisconsin, Yale