08 July 2015
New College Kickstart 2015 Update Now Available!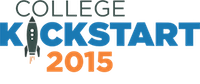 An update to College Kickstart 2015 has just been posted!
This release features a new Plan Highlights page to help you get organized and track admission requirements for each school on your list. We've also added two new MixFixer™ filters to help you find safeties, targets and reaches with greater ease, and updated our database with the latest admission rates for University of California campuses.
Click on continue reading for the details.
---
What's New
Plan highlights page.

Our new Plan Highlights page gives you the ability to review your latest list/plan without having to rerun College Kickstart. You'll be able to review your list, the admission option we've recommended for each school, as well as corresponding admission rates, dates, deadlines and fees. We've even added links to the application requirements for each school to help you get better organized.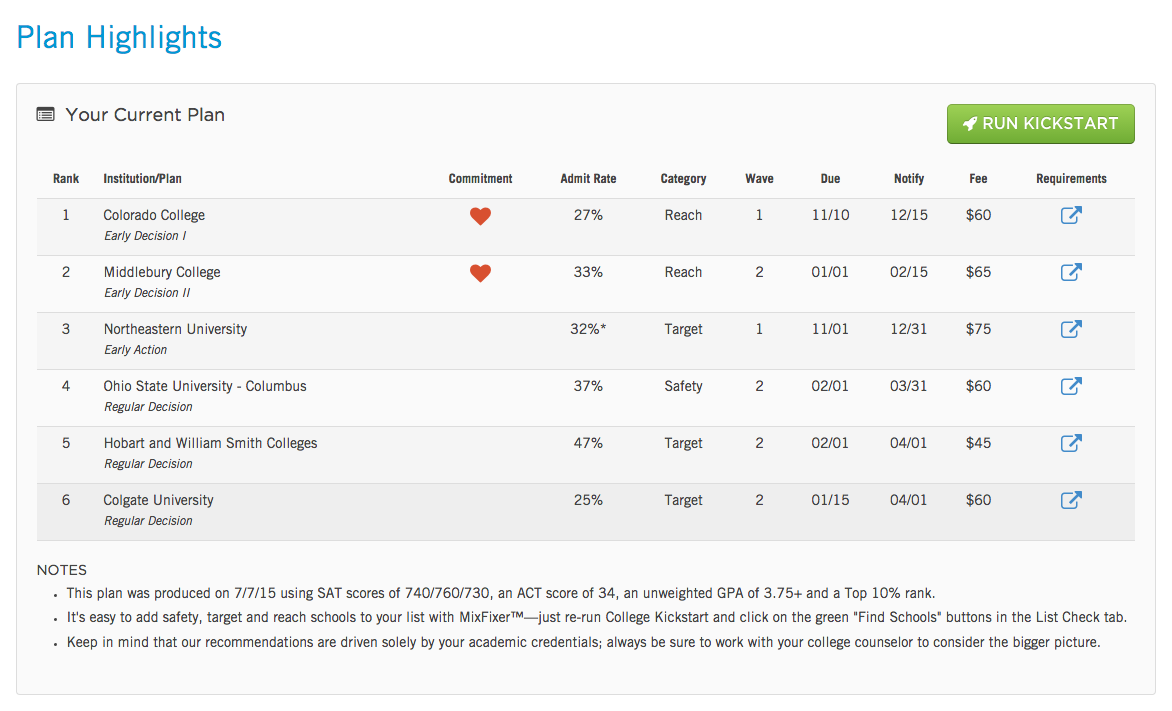 Overall list assessment.

The page also includes our overall assessment of your list to make sure you're headed in the right direction. We'll also let you know if we were able to find odds-boosting early admission opportunities for you and ways to avoid unnecessary work and cost.

New MixFixer™ filters.

Two new filters have been added to MixFixer to help you quickly find safety, target and reach schools that fit your needs. This month we've focused on school quality. For those of you in search of schools with high retention and graduation rates, take advantage of our

high graduation rate filter

(see article here). For those of you in search of more intimate learning environments, take advantage of our

small class size filter

(full description here). As always, both filters can be used in isolation or in conjunction with any of the other filters provided in MixFixer. To use MixFixer, simply click on one of the green "Find Schools" buttons in the List Check tab. It's a fast and painless way to hone in on schools that both fit your needs and strengthen your list!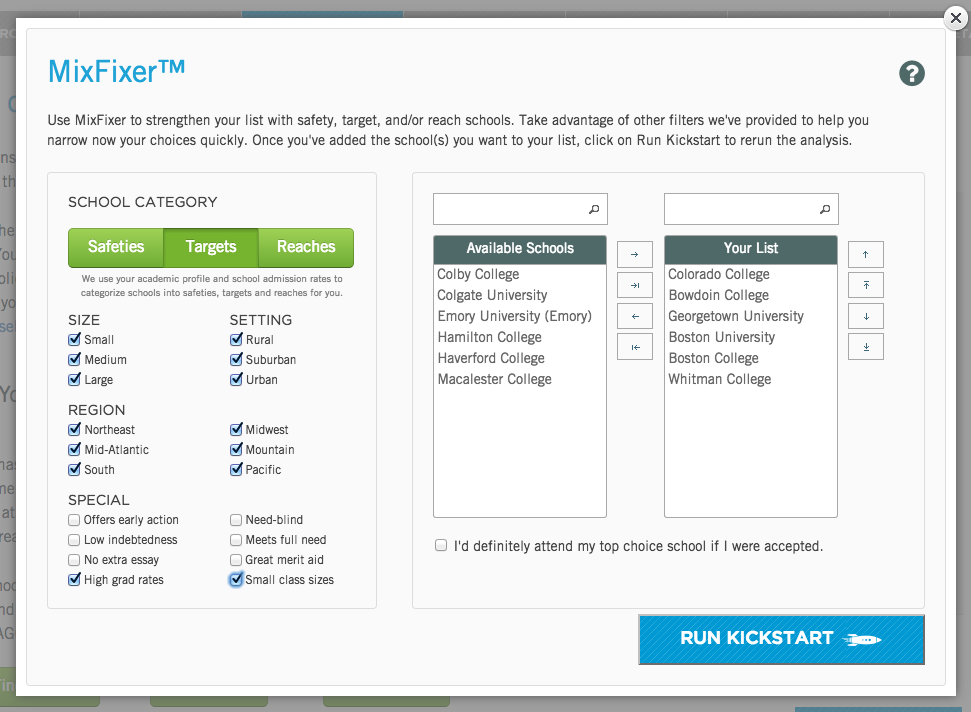 Updated admissions data.

We've incorporated Class of 2019 admission rates for several schools, including Fordham, Sarah Lawrence College, Scripps College, Trinity College and all University of California campuses.
Enjoy! To sign into your account, click here. To learn more about College Kickstart, click here.