23 November 2022
Sneak Peek for High School College Counselors (2023)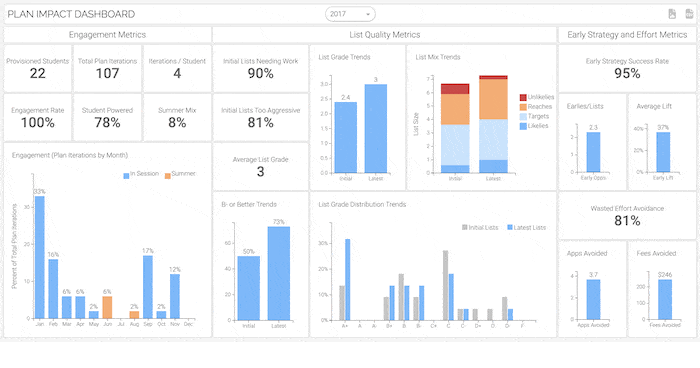 We're putting the finishing touches on the next edition of College Kickstart for High School Counselors and thought we'd give you a sneak peek. In addition to expanded school coverage, more tags and MixFixer™ enhancements, we're introducing several capabilities for 2023 to help you navigate an increasingly test-optional world.
---
What's New for High School College Counselors in 2023
Expanded School Coverage
Our coverage universe now exceeds 700 four-year U.S. based institutions as we continue to enhance regional coverage based on customer feedback. We've also add Imperial College London, Trinity College Dublin and McMaster University to the list of international schools supported in College Kickstart through local context.
---
---
Tag Support in MixFixer™
The 2023 edition of College Kickstart now supports tags when searching for likely, target or reach schools.
---
Test-Optional Enhancements
For 2023, we've enhanced our industry-leading capabilities for navigating a test-optional world in two ways:
To help you get a sense for the degree to which an institution has "embraced" test-optional admissions, we've added a "% Test" section to the SAT/ACT chart to show you the percentage of the Class of 2025 entering class that submitted test scores.
We've refined our test-optional recommendation algorithm to always recommend applying test-optional when the score is below average or weaker than your GPA/rank.
---
CK 360™ Data Visualization
With college admissions headed to a "new normal," there's an acute need for insights to guide the way. Those insights start with national trends, but ultimately rely on your command of local results.
That's why we created CK 360™. New for 2023, CK 360™ is a powerful data visualization tool designed to help you glean critical insights from your data with ease.
Always available on your desktop, insights to questions are always just a click or two away. it's a tremendous way to navigate a changing admissions landscape and support conversations you're having with students, parents, team and board.
Fee-based option
We'll fill you in on the details in January. In the meantime, feel free to learn more about College Kickstart for Counselors, schedule a demo or check out what our customers have to say by clicking on one of the buttons below.